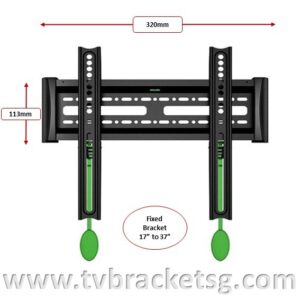 That special feeling when you just bought a brand-new TV and can't wait to start using it? We have all had that feeling. What comes to mind after the purchase is how the TV will be placed:  on a piece of furniture or wall?
One of the things you might consider in determining location could be the availability of space. But, having had experience with the furniture stand, I can tell you that it comes with its fears; you keep hoping that you'll not knock it off the surface and damage your new product, or you wish not to trip over the wires.
Our fixed mount comes in three sizes-small, medium, and large – which ensures that no matter the size or weight of your TV, we have you covered. Check out the specs of our small, medium, and large fixed mounts, this will help you decide which will suit you the best.
At TVBracketSG, our small mount has an ultrathin flat-panel Fixed mount (Distance of 29mm from the wall), and it fits most 17″-37″ flat panel display TV. It also has a VESA compliance of 75*75mm, 100*100mm, 200*100mm, 200*200mm. The surface is treated with a powdered painting coating with a black coloration.
Special Features:
It has a load capacity of 18.2kg
Made with SPCC coating material
A tilt of zero degrees.
Our medium mount has ultrathin flat panel fixed mount and fitted most 32″-55″ flat panel display. It has a VESA compliance of 100*100mm to 400*400mm and a tilt of 0°. It is made with an SPCC coating, and a powdered paint coating finishes surface treatment. It is black.
Special Features:
It has a load capacity of 27.3kg
It has a distance of only 29mm from the wall
The large fixed mount is ultrathin and has a distance of only 29mm from the wall. It fits most 40″- 65″ flat panel display and a VESA compliance of 100x100mm to 600x400mm. It is made with an SPCC coating and a powder paint coating finish.
Special Features:
It has a load capacity of 150lbs
A tilt of 0°.
Choosing a suitable TV Bracket Fixed Mount
Before deciding on the wall mount, you have to first be sure that the mount is compatible with the perfect specification of the TV display. Mounts come in different sizes to fit displays of different dimensions and weight as stated earlier. So, to wrap this point up, be sure to check the specifications of the wall mount you wish to purchase buy the exact one that can support the height and weight of your display.
Mount with Arm or still Traditional
If you have decided to go for the wall mount rather than dwell with the traditional stand, then you have to decide again if you want a mount with an arm. There are mounts with arm that keeps the display just a few inches out the surface of the wall and others hang the display to the wall like a picture frame. You can check TVBracketSG for more details to help you decide on which of the two methods will work better for you.
Are you willing to go for the high-quality wall mount that will hold up your expensive and valuable television set? Or you are going to go for the cheap wall mount? Well, at TVBracketSG, we don't overcharge our clients for wall mounts but at the same time, we don't sell cheap materials. We sell value at an affordable price.
No brand beats TVBracketSG when it comes to making the best TV mounts. Choose TVBracketSG, choose wisely:
High-quality products
Affordable prices and
Excellent customer service team.
Our Final Take
Considering that money is hard to come by, one must be careful not to spend on a product that won't last or deliver what it is essentially designed for. At TVBrackeSG, all fear is gone. It doesn't get better!
In addition to switching from the traditional way of the TV stand, be sure to validate what wall material you will be mounting your TV  display too. With our TV wall mounts, you can save a lot of space in your sitting room or bedroom and it is important to note that our TV Bracket in Singapore are of good quality.