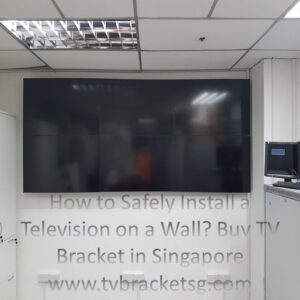 The wall-mounted television takes limited space and looks stylish. A wide variety of TV brackets are available that give the flexibility to rotate the screen around the room for a perfect watching angle. It is more secured than putting a TV on a stand.
All modern TV has a VESA pattern for wall mounting that helps you hide messy wires to give a clean look. Putting the television on a stand needs a lot of space. Modern TVs are thin and big-sized that needs more supports and protection.
What you will need to install your TV
Before installing a television, you will need to consider the following things:
If you do not want a TV disaster, do not install your television to drywall. Ensure the mounting to a stud for the stalest support. Firstly you will need to find studs on the wall. Studs are vertical posts that build the structure of your house. Finding studs will ensure your television will securely install on a wall. Studs hold interior drywall and wood blocks on exterior walls. The stud distance lies between 16 to 24 inches in the center. The electrical boxes for switches are attached to a stud.
You can decide to install your television with a screwdriver. We strongly recommend using a power drill to save time for TV mounting. Use a carbide-tipped masonry bit to make pilot holes in the drywall. You can also use a Phillips head drill bit to handle the mounting bolts.
Use a level to ensure that your mounted television is perfectly level. It helps you to avoid bending the TV and extra holes in the wall.
Buy a compatible TV bracket for your television model to mount on the wall. Check your television manual for the VESA bracket measurements. If you are unsure and need help choosing the best bracket, our support team can assist you. Check out our collection of the best TV bracket in Singapore. We offer high-quality and affordable TV mounting services in Singapore.
Use masking tape when you locate wall studs. It is better to see than a pencil line, and you do not need to mark on your wall.
Big size televisions are difficult to lift. You will need someone to help you to put your television in the bracket. Take the help of your friend for the safest upshots.
The hanging cables from the television give a messy look. You need to tie wires together neatly and embed them in a cupboard. The covers are also available that suit your curtain and wall color. It is also a simple way to hide cords.
 Benefits of installing the TV on the wall
More space: The TV wall mounting saves space and provides a more spacious look to your room.
Safety: Your young children may drag the television down from the TV table. It will be a great tragedy for you and your kids. Mounting a TV on the wall is a safe way to avoid any injuries and disasters.
Viewing angles: You can enjoy your favorite shows from different angles.
Easy to clean:  It is trouble-free to pull the TV outward from the wall for cleaning dust at the backside of your television.
Suitability: It is hassle-free to bind the cords with full-motion TV brackets.
Why Trust Us?
If you are uncertain about mounting TV yourself, don't take the stress of installing your TV. Contact our expert to take responsibility for mounting your television. Enjoy your favorite shows on your wall-mounted TV. We have been working on mounting TV since 2012 and continuously supply a wide variety of multi-size TV Brackets in Singapore. We offer installation and construction services for all types of LCD, LED, Plasma, OLED, and commercial TV.
Our installers are well-trained and have more than five years of experience in the TV mounting industry. In case of any queries on TV brackets and installation services, contact us for free advice. We give helpful guidance to our clients. We understand every client's demands and always suggest selecting a suitable TV bracket for their specific needs.
We provide durable and high-quality TV brackets in Singapore. Our products are certified for both commercial and residential use. Our team is always reliable with more than ten years of experience. Our products and services are great value for money. Contact us today to buy the best TV bracket to enjoy a great experience of mounting television.