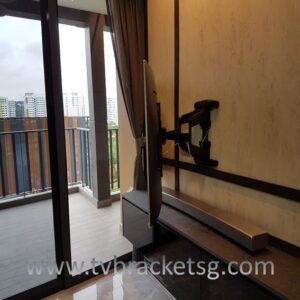 In the modern age, TV technology has invented immense progressions. LCD TVs are an amazing transition from the simple black and white television collection. With today's modern technology and the inception of flat screens, people understood the demand for TV brackets to allow fixing the screens on the wall.
TV bracket selection is critical with multiple models and brands of television to meet your requirements. If you know exactly what you need you can pick the best TV bracket for your television.
What is a TV Wall Bracket?
A TV wall bracket is a stand used for mounting television directly to the wall. These brackets can fix flat screen LCD or plasma TVs on the living or bedroom wall transversely from seating, to watch television from a suitable location. TV bracket mounting isn't so easy it requires specific expertise to install it on the wall. If you are not satisfied with the application of tools or fixing it yourself, you may have to hire experts to install them properly.
You can visit us at tvbracketsg.com to buy a TV wall mount in Singapore at a reasonable price and install it yourself or by using the services of our experts.
Suitable Walls for Fixing TV Brackets
TV wall mounts are more compatible with drywall. You can fix a wall mount bracket on a cement surface with stronger hardware. We urge you to avoid installing a TV over a fire stove wall. It is simple to fix brackets on all types of walls by an expert.
The screen size and weight of the television are the most important factor which must be considered before buying a TV bracket. If you are buying it online, review the product information about the best weight capacity and screen size it can manage.
Different varieties of TV brackets provide flexibility for your television to adjust desired positions.
The television can be installed at the perfect height with a fixed amount it will be near to the wall and taking up few spaces. A slim bracket is suitable for a more luxurious look.
If you can fix your television in the corner, by using specifically designed corner brackets.
An entirely articulating bracket is required to ensure the mounting base with the wall to hold the television extended. A universal television base is the best of both table-top and wall mounting. It is height flexible, and other multiple models are with tilt and swivel features.
Why Should Buy TV Bracket?
Purchasing a new flat screen television can be a pleasant feeling, but the mounting of television brackets is necessary for a perfect setup. The TV bracket is a great investment as it provides flexibility to achieve the cinematic impact on the wall just like the big screens in the theater. By fixing the television on the wall you can save room space and excluding the mess in the room. It also keeps the TV screen secure in a high fixed place with the best viewing angle. You can choose the appropriate television bracket-style from here that is perfect to satisfy your demands.
Wall mounting also opposes the dilemma of size; you do not need to confuse about fitting television in the limiting space, as your wall is wide enough. You can therefore choose a larger screen, without bothering the place in your living room.
Where to buy a TV Bracket?
You can find TV wall mounts in Singapore all mounting accessories at tvbracketsg.com. You can choose the television mount style according to your television size and budget. We are one of Singapore's greatest and trustworthy suppliers of television wall mounts and, specializing in LED, LCD, and Plasma TV wall brackets installation.
Final Thoughts
With a variety of TV wall brackets in the market, you can find one that satisfies your desire. Ensure that it should fit with the weight and size of your television. The exact dimension and size of television brackets are perfect for smooth and easy fixing of a specific amount.
You should also consider the weight of television because it highly affects how the brackets can carry it. If you are doubtful in selecting or installing television brackets, then you can request the guidance of an expert. If you need assistance with installing your new TV wall mount, check out our services on mounting a TV.