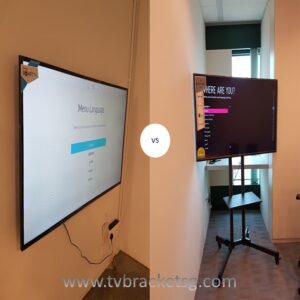 Finally, you have your dream of TV, but you are confused about how to display it. It may seem obvious, but it may be challenging. At TV Bracket in Singapore, we understand that there are some smaller things to look out for before you decide how to position your TV.  Let us explore the options together, and eventually, you should settle for the best option for you. Let's go.
There are two primary and most practises method of TV display; Wall Mount and TV Stand.
A TV – Stand Display Method
Here, you put your TV on a flat surface. Usually, it is on a table or a stand of moderate height that raise the TV to a certain level for you to watch. The modern Televisions have a broad base or legs in the middle or at the end of the base to holding it upright and stable.
Pros and Cons
It is easier to move either to another room or reposition to another angle.
It is easier to access ports and keep the cables safe on the shelves.
There are beautiful designs used for multi-purpose like a mirror and a screen at once.
It occupies a large floor.
The height of viewing depends on how high the stand is.
In case you buy a bigger TV, the box stand will need a replacement.
It can easily be damaged from accidents if you have children, pets or you tip over and fall. A Wall-Mount display method?
As the name suggests, you attach the TV on the wall directly. It can either be in your living room, entertainment hall or bedroom at a convenient watching position. Some companies offer mount items when purchasing a television, but most are of low quality. You can buy that separately.
Some company offer technicians to help with mounting. The process may look simple, but during installation, experienced hands are preferable. TV Brackets in Singapore technician are professional with over six years in the business. They value their customers and give the best services.
Pros and Cons
It is easy to manipulate angling with its various movement features.
It diminishes the problem of limited space. You can have your TV as big as provided the wall is enough for mounting
Mostly, it needs a professional and specific tool which may not be readily available in every household.
The wall has to be strong enough to anchor the weight and not break. It is advisable to use a stud or two.
You will need shelves to keep the components like DVRs, cable boxes and game consoles.
You will need a cord concealing plan all down to the socket, like inside a wall, cord hider or a cord cover.
What Determines The Best Method Of Display For Your TV?
The purpose you intend to achieve, for example, to incorporate TV to your existing furniture like a bookshelf or new modern entertainment centres or to use the mirror for double vision when the TV is on or off with a click of a remote. Frame and use it as moving art on the screen for entertainment.
Visibility or have a single focus point in the room. For example, you can mount over a fireplace.
If you intend to change the position often, maybe to eliminate reflections that interfere with the pictures or you have your cosy place, you like to watch apart from others in the family.
To prevent from damages, especially when you have pets and small children or visually impaired persons in the house.
The budget set for the project determines what the most suitable method is.
The owner or tenant rights apply. Consider if the landlord allows that method. Some homeowners will not allow drilling on the main wall of the house.
If you have limited space or you and you can finance extra costs for your TV display, you can go with wall mounting. TV Brackets in Singapore will help you settle for the best mount and tell you the whys. They will offer professional installation services for an affordable fee and after service customers experience to ensure you are settling in well.
For a cheaper, quicker and easier mount method, stand mounting will be your best choice. It can also be elegant and 44 Modern TV Stand Designs for Ultimate Home Entertainment (trendir.com), you will be amazed at the art with TV stands in Singapore. Enjoy your watching.