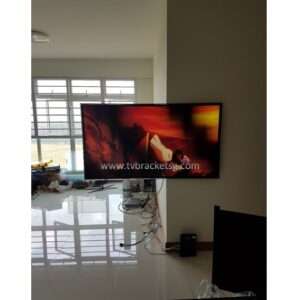 Modern televisions are smart and stylish that has a great impact on your living standard. Mounting a flat-screen television is today's requirement that suits the surroundings without taking much space. The right location to install a TV bracket provides a tidy and stylish appearance.
If you select a suitable location to mount your TV on a wall it provides a modern look and you can enjoy a better watching angle from all directions. The primary consideration you need to mount a television is choosing a useful place where it is well adjusted to your room setting and design.
Install TV Bracket over the Fireplace
That seems ominous and cautious people may avoid mounting television over the fireplace. However, there are different perspectives about this special idea many people love to install television over the fireplace.
Mounting a television on the fireplace it makes simple to adjust the furniture and save much place in the room. A fixed TV bracket is best to fix your television tightly in position. It is safe to mount a fixed TV bracket over the fireplace and you don't need to be scared about this idea.
Install TV Bracket near the Fireplace
Another superb idea is to install a TV bracket beside the fireplace. This is similar to the first idea in this way you can experience the TV near the fireplace without worrying about managing the furniture around it. The TV bracket can support you to make a charming view.
Install TV Bracket in a Corner
Some people don't consider the corner when installing a TV bracket on the wall, but it is a safe idea. Many homes are designed with so many artworks that you hardly find a space in the living room to mount a relatively large TV that suits the place.
If you have limited wall space because of other architectural pieces, then you should think about mounting your television in the corner. The tilting wall bracket is best to install in the corner so don't be worried about watching angles for viewers. You can enjoy your TV from all corners of your room with a tilt wall mount.
Install TV Bracket on Dark Wall
That dark wall is a perfect suggestion that installs your television on the wall in a modern style. You can experience a mix of elegance and pleasure. Buy Full motion TV wall mount for cinema-like entertainment.
Buy durable TV Bracket in Singapore
Hopefully, these suggestions provide you with different ideas on how to renovate your living room. Whatever idea and TV wall mount design you choose, we have a huge range of TV brackets in Singapore and we also offer installation services.
Our TV brackets in Singapore are affordable, lightweight, and durable. We offer all the services you need after buying a TV bracket. If you still prefer a traditional mounting style for your television, you can buy the TV table stand.
TV Mounting Services
Before you install your television, some important points must be considered. Firstly, where the TV is to be installed you have available space for different elements such as game consoles or wire boxes. This issue can be resolve by placing a shelving unit near the TV bracket. A fine smart look can be created by hiding the wires. You can buy a TV bracket in Singapore; our selling team can assist you in the entire process of selecting a TV bracket and installation it.
Conclusion
Although televisions are getting slimmer, they are also becoming wider. As space is limited everywhere, mounting a TV can be a space-efficient method on any premise. When a TV wall mount is used for television, it creates a cinema look to the entire environment without taking extra space.
When you plan to mount your television, get the right TV bracket that matches your TV specifications. However, you must consider your space and requirements when choosing a more ideal TV bracket.
Hiring an expert will take the responsibility to install your television efficiently. An expert has the great experience to install it in a better and fast way. Our team can manage everything to install your TV, so you don't need to worry about the size of the television. You can contact us for any queries right here.