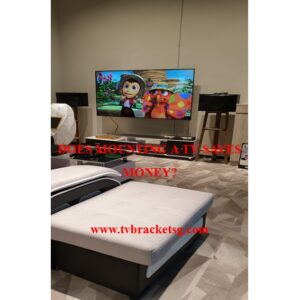 Buying the best TV brackets in Singapore can be very tricky considering the fluidity of the markets. Because of variety, many manufacturers have surged in the industry, leading to the proliferation of many TV mounts. But the question many are poised to ask is: does mounting a TV saves money?
These days, many people feel that mounting a TV on the wall is for the rich and also for decoration. The fact remains that mounting a TV is not as expensive as you think it is or meant to make the room more beautiful.
Yes, it makes the room look neat and attractive, but it goes way beyond decoration and show-off. Mounting a TV saves you a lot of space and even provide easy viewing from your favorite sitting spot.
Probably, the next question that comes to your mind is if you need an expensive wall mount. The answer to this is no; you do not need to get a costly mount simply because you go an expensive TV. However, you need to get yourself a high-quality TV mount so you can enjoy TV for a long time.
Now, let's quickly talk about how mounting your TV saves you money. I have three ways listed below. They include Safety, Space efficiency, and Medical reasons. Keep reading, and you will understand how.
Safety
Whether at home or in the office, safety should be the first and last consideration when mounting a TV. If you have children or pets, then that's more than enough explanation for you. TV mounts are designed to keep your TV above ground level and flat to the wall, which means when you are not at home, and the TV is not in use, it is practically safe.
Getting a TV mount for your display will help save money because you will not have to worry about getting a TV every time your little cousins are around or worry about treating the kids when they play. There will be fewer repairs with TV wall mounts, which means less money out of your pocket.
Medical
Watching a TV on a TV stand for a long time will make you strain your neck, or even turning slightly to one side just to get the perfect view is one of the easiest ways to quickly visit the hospital.
Maybe you lack space in your living room or bedroom, or your couch arrangement is just one-sided, and the choice you have is to fix your TV in that particular corner, whatever the reason may be. Your neck deserves to feel better when you are watching your favorite program.
So, how do you save money when you use a mount? Simple! Get yourself a mount and place your TV high to your preferred position, and you are sure that proper spinal alignment becomes possible.
This is so because, however, your arrangement is, having your TV mounted will save you from any neck strains. That way, you will be saving a lot of money you could have used on adjustments and prescriptions.
Space
Just imagine all the space that these large entertainment centers and TV cabinets can take in your living room. Think about it for a second, and you will understand what I mean. With a TV wall mount, you get enough space, including the wall space.
When you have too much furniture and covered walls, your room may feel tight and sometimes make you feel claustrophobic. With all this new technology, trust me, you do not need too much furniture, you need more space to stretch out.
Final Thoughts
There is not more profitable than having the right information. A lot of people waste so much money on frivolities when it comes to mounting their TV in the room. This is partly due to lack of basic tips on how to save cost. On the other hand, getting the best TV bracket in Singapore is another challenge.
At TVbracketsg, we have different TV wall mounts that you can purchase at an affordable price, and you can reclaim your precious space, avoid injuries, damage, and avoid seeking prescriptions from doctors. The truth is, avoiding all of these will save you some extra bucks that you can use for something else.