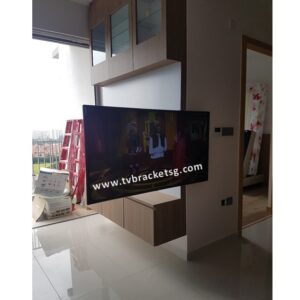 A plasma TV can be fixed on a wall by a TV wall mount for a more pleasant watching experience. Different types of television mount having unique features and require some specific handling for installation.
Types of Plasma TV Wall Mount
The tvbracketsg.com offers a great variety of TV wall mounts in Singapore, depending on the budget and comfort demanded by the customer. Amazing types of Plasma TV wall mounts that are offered by us are specified here:
It is the most manageable to fit and a cost-effective television wall mount. The low-profile television mount is also called fixed as it does not allow tilting or rotating features. Once you fixed it, you cannot relocate the tube in a special orientation that you need. If you need to rotate your television then this is not the best selection for you.
The tilting wall mount allows the plasma TV to turn up and below. Your access is limited to the back of your TV for cable adjustment.
The full-motion mount is the most expensive model. It supports the TV to rotate forward and backward and to shift upward and downward.
Tilting Wall Mount VS Full-Motion Wall Mount
The tilting wall mount, lets you turn your TV up or down, but it limits you from side to side shifting. It allows limited rotation. If you install a full-motion TV wall mount it provide a full range of motion for your television up and down or from side to side. It allows pulling the television aside from the wall normally up to 20 inches. You can surely get space to the back of the television to turn out wires when required. The full-motion television mount is expensive and difficult to install as compared to other models. Fixing a plasma TV wall mount normally requires one hour and at least two people can execute it.
Full-Motion TV Wall Mount Installation Tips
The full-motion television wall mounts Installation is not very complicated. Though, it should be executed perfectly. When you purchase the television wall mount companies provide a full fixing guidebook that guides for installation. Many people make the mistake of fixing the television wall mount which makes the process complicated and dangerous.
Surely, these suggestions will help you to install a TV wall mount perfectly in no time. The comfort that you feel and the money you save from taking on a TV wall mount installation by yourself are rewarding. Just practice is required to execute it perfectly hopefully; your fixing process will run much smoother.
Why Should You Buy TV Wall Mount for Plasma TVs?
A variety of incredible plasma TV wall mounts is available, for the living room. With the advantage of a wall mount, you can easily handle the common challenge that so many people face in adjusting space and securing television. The plasma TV wall mount is considered attractive, as it protects the plasma television and modifies room appearance.
The dimension of the rooms is the main problem. The improvements in technology have offered flat-screen plasma television that is smart in style. The wall mounting of the plasma television occupies less use of space with exciting entertainment. Additionally, the use of frames and wall brackets covers all the wires to give a neat and smart finish.
Plasma TV Wall Mount Buying Guide
A TV wall mount cost varies depending upon its type. You can compare prices and client reviews for the best purchasing price. During buying a TV bracket in Singapore at furniture markets, you may be confused by several available options. Our experts can assist you to interrogate your preferences when buying television mounts. Quality is an imperative factor that makes a perfect decision. The tvbracketsg.com online television wall mount store offers high-quality television stands, brackets, TV wall mounts in Singapore with installation services.
If you need a reliable selection then visit our best plasma television wall mount online store. Weight limit is also an essential concern; you should choose a television bracket that can sustain the weight of your television for a long time.
Final Thoughts
If you decide to have the most reliable full-motion television wall mount in your room. You must purchase it from a reputed company that produced VESA-certified stocks. Before installation, follow the guidelines precisely and select a position on the wall that will proffer the best watching angle rather than the size of the room.