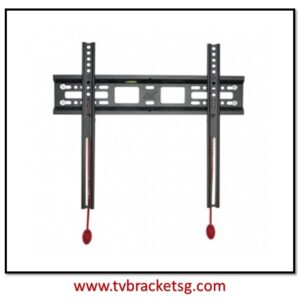 As TVs are now light, they can be hanged from the wall or ceiling just as you want. They no longer have to occupy a lot of space in your living room. If you're having trouble finding the best TV brackets in Singapore, this blog post will help!
TV brackets come in different shapes and sizes, so you must consider what type of bracket will be most compatible with your television before purchasing one. TV brackets are essential for people who want to mount their flat-screen TVs on the wall. There is a wide variety of TV bracket models available in Singapore, but not every type fits your needs.
This blog post will outline some key features you should look out for when choosing your TV brackets and provide examples of the best sellers at major retailers.
Advantages of TV Brackets
TV brackets come with an array of advantages that make them perfect for mounting TVs just about anywhere.
Save up space in your home
Mounting the TV on a bracket is one of the best ways to use space efficiently, in addition to keeping everything neat and organized. One of the benefits of owning a flat-screen TV is its ability to be mounted perfectly on the wall. This aesthetically pleasing move not only saves space but also increases your home decor and visibility while making it more attractive too.
It saves up plenty of room, which is good not just for those who live in small spaces. It has an aesthetic advantage because home decor can make a place look nice. Adding anything new like this enhances its appearance even more so makes the whole layout flow better.
Protects your television from damage
Mounting your TV will ensure it doesn't get damaged from falls or bumps. Furthermore, if you accidentally knock into your television while walking around it, there is less chance to damage anything. You can protect your flat-screen television by installing it on top of something sturdy to keep it in place securely.
TV Brackets allow hiding cords and having them tucked behind a unit. It makes rooms appear more organized, which is crucial for home decoration purposes. Full motion allows you to position it easily for optimal viewing from anywhere in a room, not just where that cord can reach. TV brackets will have an overwhelming impact on the interior layout, allowing greater control over major focal points in a house or apartment. Mounting your TV can transform the look of a room. Position it correctly to revolutionize your house design with a TV bracket.
Better viewing angle that reduces the stress
With TV brackets, you can reduce the strain on your neck or eyes since it only means that you have more flexibility in choosing an angle of viewing. This way, you end up reducing the strain on your eyes and neck to avoid eye fatigue or muscle tension at other parts of the body.
TV Brackets mounting services in Singapore
If you're confused about mounting your TV on the wall, don't worry! We supply a wide variety of TV Brackets for all types of customers in Singapore. We are a company that provides all kinds of TV bracket and mounting services in Singapore. We provide the best price range for our products.
Want to install that new TV you just bought? Start hanging your TV brackets to get the most of an enjoyable and rewarding experience. If you need to save yourself the trouble of installing your new TV on a wall, we can help!
Our professionals will provide all the necessary equipment and install it in no time at all. Using TV brackets has a lot of advantages. They are inexpensive have more benefits when compared to traditional stands. We hope you will be able to make the right decision after reading this information.
Where to Buy the Best TV Brackets in Singapore?
Are you looking for TV brackets in Singapore? It can be a tricky task to find the perfect bracket that fits your needs. That is why we are here! We have a wide variety of options available with prices range from affordable to high-end products. Contact us today or visit the website for more information about all of our different services.
It is not hard to find the best TV brackets in Singapore, but it can be tricky to know which ones are worth your time. We provide a wide variety of TV brackets in Singapore for you. Our products meet high standards before they go on sale.
Contact us today! Let us help you choose the perfect TV bracket set up that will work for your flat screen television setup. With mounting services available, there's no better place than TVBracketSG for choosing where to buy the best TV brackets in Singapore.