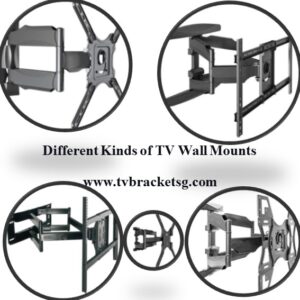 If you're on the search for a brand new TV, but you don't know the right mount that would be ideal for your home and the new TV, you're not alone. Many people can't tell the difference between the different kinds of people, and a TV mount is usually the last thing people consider when getting a TV. However, it should be a serious consideration so you can find the best TV bracket for your home.
Pros of A TV Mount
If you use a TV stand, then you know the constant battle you've had to face with them. You can effectively avoid such issues with a TV mount; it makes your home look tidy and much more organized. When you install a TV mount, there is more flooring in view, which makes the room look spacious while naturally enhancing your home décor.
Mounting your TV allows you to stay in your favorite position when watching programs on your TV. Whatever position you want your TV to be, whether at the center of the room or a corner, a TV mount can help you achieve it.
You need a TV mount that is flexible and easy to use. Besides, it must be compatible with a wide range of TVs. This way, you won't have to be buying a mount each time you change or replace a bad TV at home.
The Different Types of TV Mount
There are two kinds of mounts, and they include the flat and moving mount. Before you buy a TV mount, you need to decide if you simply want the TV hung in the home, or you would like the TV angle to be adjustable to your preference.
This is a common TV mount. This kind of TV mount prevents any form of tilting or maneuvering to be done on the TV once it is installed. However, this is preferred because it allows the TV to lie flat on the wall and is non-fussy. A fixed TV bracket works with different kinds of TV except those with a protruding back. A unique type of wall bracket is the Ultra-thin wall bracket that allows the TV to stay close to the wall if you want a minimalistic design. If your home doesn't have partition walls, using this wall bracket might be hard. This is because the cables need to be hidden in the wall for the TV to lie completely flat.
The second type of TV mount is the movable mount. There are more options available in the moveable wall mount to pick from, and below is a breakdown of your options.
Swivel Bracket: This is like the low profile wall mount, but it differs from the flat-mount because it allows you to move the TV horizontally. The Swivel TV bracket comes with an extended arm to assist the horizontal movement.
Tilt Bracket: This is quite similar to the flat-mount but allows users to tilt the TV downwards. This is a great way of enhancing your view if your TV is mounted high on the wall. It also works in a bedroom where your viewing position is lower than the TV placement.
Full-Motion Bracket: This is a TV bracket that allows users to mount in a corner. You can adjust your TV in any direction to attain the ideal viewing experience. It usually comes with a small extending arm that allows you to tilt and swivel your TV conveniently.
Final Thoughts
When picking a TV Bracket, ensure that you first pick where you would like the TV mounted and the type of view you're hoping to get. Although the fixed wall bracket is quite popular, it doesn't give you the adjustability option to maneuver your TV as you want. If you're still confused about the TV wall mount for you, you can check out the products we have available and make your choice.
There's no other place that offers this wide variety of options of TV Wall mounts than TVbracketsg.com. We offer the best TV mounts and TVs in Singapore and across Asia. Our products are ubiquitous and are offered at a great price that won't cause you to break the bank.