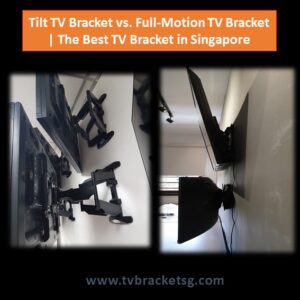 There are many benefits to wall-mounting your television. First, you get the best possible viewing angle no matter where in a room it is placed and an elegant look that complements any décor or color scheme.
A wide variety of mounting options ensure that everyone can find something for their needs and space requirements, whether they only want their television visible from one corner of a specific area or need more flexibility when positioning it throughout the rest of the house.
Trying to decide which TV bracket is best? You might be wondering what the difference is between these two brackets and why you would need one over another.
When buying a TV wall mount, there are several key factors to consider. Firstly, you should decide if you want a tilting or full-motion TV wall mount; both have their benefits and maybe suited your space differently depending on how much movement is necessary for the room when watching television.
If you plan on mounting your TV above eye level, a tilting wall mount is an optimal option. This type of bracket can tilt the screen by 45 degrees. Instead of having your TV screen be directly facing upwards, you can mount it in a more downward position so that you do not have to crane your neck. The tilting feature on brackets also restrains glare and reflections from other light sources such as windows or lamps.
If you are mounting your TV above a fireplace, in the bedroom, or somewhere at an inconsiderate height, we recommend using our tilting bracket. The tilt TV brackets can be adjusted to flush with the wall for a sleek look when not being used.
The full motion TV mount is the most versatile due to its multiple swivel features. It allows you to tilt, swivel and rotate your TV for a better viewing experience and unique look. If mounting in a corner or recessed space provides an added benefit of giving off that extended effect seen with other mounts not capable of aiding this level of functionality.
A full-motion TV bracket is perfect for people that would like to view their television from multiple seating areas in a room. It avoids glare, accessing your ports and cables. It provides an optimal viewing position while watching the screen as well.
If you're looking for a solution to improve your viewing experience, you should go with the Full-Motion bracket, but it is more expensive than the tilt TV bracket.
TV Bracket Mounting Experts in Singapore
Are you interested in getting your TV mounted? You don't have to worry about anything. Our specialists will come to your home and bring all the necessary tools, equipment, and expertise required for mounting your TV.
Please Book an appointment with our expert technicians at a time that works best for your busy schedule. We'll be there within the same day to make things as seamless and convenient as possible. Contact us if you are looking for a TV bracket in Singapore. We have an expert team of professionals who can help design the perfect solution and install it in no time at all!
Conclusion
This article has highlighted the different mounting options available for televisions. We hope it is helpful to you when choosing between your various choices of brackets. Some people may prefer tilt mounts as they do not need much space, while others might want a full-motion TV bracket. If you are not sure to choose the best-suited bracket for your needs, our team of experts will provide an assessment recommend the right one.
The Tilting TV Bracket is ideal for people who want to save space but need a bracket that can tilt in both directions. This type of mounting system only rotates forward and back. However, if you are looking for a more versatile TV bracket with more movement, we recommend our Full-Motion TV Bracket. It moves up and down and side-to-side, so you're viewing angle will always is perfect no matter where you are sitting in the room.
For the best TV mounting experience, it is crucial to find a reliable and reputable company. We supply all kinds of universal TV brackets in Singapore. Our team is always ready to help with your installation needs. For help in choosing between these two brackets or any other kind of mountings services that might require installation or maintenance, feel comfortable contacting us today!