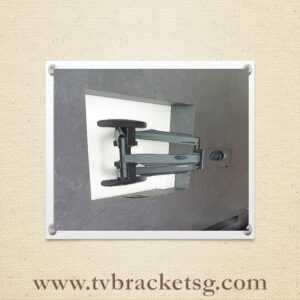 There have been many technological advances that have changed the way we live, but few have had the impact of our personal lives the way television has. Most homes today have at least one TV and some have two or more. There is an endless array of sizes, designs and features to consider when you are shopping for a TV. Many are designed to be mounted easily on the wall- flat screens. When it comes to mounting a TV, it is important to have the right tools and mounting kit on hand.
TV stand mounting is a home decor material which has the purpose of holding the television and other electronics connected to the TV in homes, hotels, offices and so on. TV stands have been popular since the invention of TVs and since they became really popular. However, with massive evolution, there are better, more attractive and cool TV mounts and stands for every home than there were in the past.
The mounting brackets hold the flat screen TV away from the wall and allow it to be angled or tilted as needed for easy viewing. Designed for corners, this wall mount brackets helps conserve valuable wall space and still keeps the TV safe and secure. Almost all modern TV'S are standardized to fit the main wall mount brands on the market, so it doesn't matter whether you have a Samsung, Sony, LG or any of the other TV manufacturers. The wall mount doesn't have to be the same brand as the TV.
Buying a wall mount brackets in Singapore sounds like a simple job, but it's easy to be confused by the different specifications which need to be considered after spending a small fortune on buying a TV; one need not risk having it fall off the wall because one haven't bought the right backing for it. The factors to consider when buying the right wall mount brackets and avoid replacing them at a near future include the size, weight restrictions and kind of VESA mounting pattern of a TV.
There is no need to buy the same brand as your TV manufacturers as 'one to all' brands are stocked by most retailers on and offline and fit most modern TV sets. The universal adjustable TV wall mount brackets are suitable for all LCD or led TVs and monitors. With integrated bubble level adjustments, the wall bracket is sturdy and safe making viewing more comfortable and the mount can be attached to any concrete wall or wooden stud and comes with an easy guide and a whole set of fittings: screws, bolts, anchors, and spacers.
Whatever the reason for wall mounting TV, the important thing is that it be done right since doing it wrong could be very costly. Not only one is risking his or her prized TV but also the wall it's supposed to be hanging on. There are some common mistakes people make when wall mounting their TV. This include: –
Avoiding Reading The Instructions When Hanging The TV
This entails failure to read instructions or documentation and the best practice procedures.
Hanging The Wall Mounted TV Above A Fireplace
Fireplace is considered as a focal point, and that's why it is seen as an obvious place to locate the TV. Fire and smoke don't mix well with electrical appliances, it might not have immediate effect but it will certainly shorten the lifespan of the TV and TV wall bracket.
Wall Mounting TV Too High or Too Low
Wall mounting TV at the wrong height and with a volume of repetition will give one's neck strain with a side effect of headaches. It is suggested that wall mounted TV in a living room should fit the sitting height and typically in the middle of a wall.
It could also be positioned in the corner but would need a full motion mount bracket to optimize viewing experience.
Other Common Mistakes
Other common mistakes people make when wall mounting their TV includes not considering sun exposure when positioning wall mounted TV, not allowing for enough cable length when wall mounting TV, not selecting the right wall bracket to hang the TV, not carrying out a dry run of the wall bracket and TV connections on the floor beforehand, not securing the wall mounted TV safely to your wall, not having a helping hand with the installation of the wall mounted TV, not using a spirit level and not putting enough HDMI cables in place for future use.