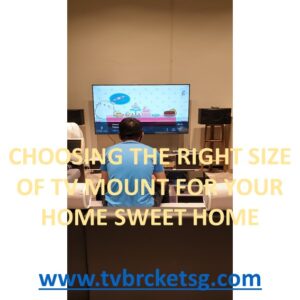 When it comes to TV bracket in Singapore, no one should be in the dark as to what size to choose, or how to select the best TV mount. This is because TVbracketsg gets you covered. But what's the best way to choose the right TV mount? This article offers all the tips you need to pick the best mount.
But here's a saying that drives home the point better: "what goes up must come down." This law of gravity is true, at least, when it comes to physical sciences. However, when it comes to getting your TV mounted on the wall, you should make sure you don't let your guard down. You shouldn't allow your expensive TV doesn't come down except you want it to.
The fact is that selecting the right size of TV mount can be a little tricky. This is why we have a simple guide to help you find just the TV bracket size for your TV. If you're not sure how to choose the right size for your TV mount, this article will guide you through.
Choosing the Right TV Mount Size: What to Consider
There are two major things to put in mind when you are making a decision on which mount to buy. First, you have to understand that any mount will fit on any TV, regardless of the TV mount size.
This is so because VESA has created a standard format for any kind of TV mounts, and companies have to conform to it. Another thing is that brands also design their brackets to support a particular TV screen size.
This information is helpful because it will help you decide which TV bracket you will purchase. You also have to know that a TV screen size doesn't have to correspond with the TV's actual weight.
Your Style
As earlier stated, there are several mounts, and you will choose the one that you feel will give you the best viewing angle while sitting comfortably in your preferred location. Different kinds of mounts will give your room you desire.
There are fixed mounts that will ensure that your TV stays fixed to the wall and do not allow for any kind of flexibility. There are also tilting TV mounts, making it easy for you to tilt your display upward or downward.
There are also full motion or swivel TV mounts that not only allow you to move the TV upward or downward direction but also side to side. Now that you understand this, you get to choose whichever fits your need, style, and room.
Pressure
Another thing to consider when selecting the right size of TV mount for your display is not the advertised screen size but the actual weight the mount is suited for. You can get this information usually on the website's design description or even inside the box.
In some cases, you might even find out that you can fix your TV on a different mount but recommend for your screen size. So, be sure to check your TV's weight and select not just any mount but one that can hold your TV correctly to avoid falling.
Wall Space
Choosing the bracket's right size that will hold the TV also depends on the space you have along your wall. The size of your wall can prevent you from mounting a large TV, except, of course, you would want to go for a full-motion mount for its extending capabilities.
But then again, that might be a way to above your budget, and you shouldn't bite off more than you can chew.
Final Thoughts
The final point to make is that this is not the time to start dilly dallying. It should be the time for action. But you need to know that regardless of the TV mount size you want to go with or the materials your wall is made of, TVbracketsg will help you out. We can take care of your mounting needs to give that viewing comfort that you deserve. Out technicians are ready to take care of your mounting needs and help you select the right TV mount size.