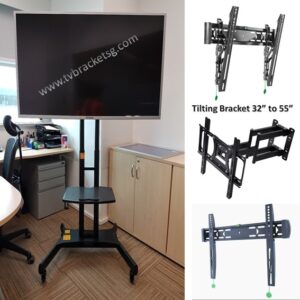 Now that you have finally come to a decision to get a new TV to watch your favorite TV shows, movies, news, and sports, there are steps to achieve better viewing. Some of the steps include deciding what screen size you want, the kind of features you desire, and the brand of TV you want to pick. Apart from all these elements, there are also smaller things to also look at out for, such as how you want to place your new TV screen.
What is a Stand Mount?
The stand mount, which could be a TV stand or table with a moderate height that raises the television to a level for you to watch. Using a stand mount is the easiest and quickest way to set your television up as most TVs today come with a base stand, which helps keep the TV upright and stable.
Why Stand Mount
Using a stand mount helps you maintain a safe and reasonable distance from the wall behind your TV screen. With the distance, you can access the ports at the back of the TV, and sometimes most of the stands come with storage to place other accessories and equipment for easy reach. With the stand mount, you can also move your TV quickly when needed, especially when cleaning, repositioning for a better viewing angle, or moving to a new room.
Drawbacks Of Stand Mounts
One of the top disadvantages of using a stand mount is that your television will occupy surface space. This is because, with a stand mount, you need a tabletop or a flat surface to place the TV on and has to be wide enough for the television base stand. Sometimes, with a stand mount, the viewing height depends on the height of the stand that you purchase.
The other drawback is the fact that withstand mounts, your television's safety is not guaranteed. Aside from your TV's safety, your kids and your pets might also be at risk. The TV simply rests atop a flat surface, which can easily tip over and fall with just a small accidental push. This might lead to television damage and might even hurt someone.
The Wall Mount Clearly Explained
Just as the name implies, you mount your television directly to a wall with a wall mount. It doesn't matter whether it is the living room or bedroom; you can always place your TV on the wall to your suiting, which allows you to watch your favorite shows conveniently. Although the wall mounting is not quite easy as the stand mounting, you can always reach out to our professionals to help install the wall mount and television for you.
Most of the latest designs of televisions come with the option to wall mount, while some televisions makers even go as far as offering free wall-mounted installation with your purchase. So, if you want the tv wall mount, you can simply take a look at our collections and be patient for our technicians to come over and handle the installation.
Why Wall Mount?
One of the prevalent advantages of using the wall mount is that it saves you enough space. This is so because you don't need any surface space or table to place the Television on, which is very efficient, especially for a small room or apartment. It also gives a classic and organized look, since it allows a more minimalistic look and you can even have your television exactly where you want it and the high you desire.
The wall mount also solves the problem of size as you no longer need to worry over the television fitting in the space you want. As long as you a wall is wide enough for the display, you can go for that large screen you always wanted.
Shortcomings of Wall Mounts
The installation method usually requires a professional for proper installation, which could add to the already inured cost. Installation is very important as you have to ensure that it is securely done properly since the mount will be holding your large or expensive television.
The second problem is that you could lose or damage that TV if the poor installation is done. Therefore, we advise that you take extra care if you are located in areas where there are heavy and consistent vibrations to avoid any damage to both the television and the mount.
Choosing the best Mount in Singapore: Where To Go
For the best wall mount or stand in Singapore, you cannot help but choose https://www.tvbracketsg.com/. This is where you get the top products and services.