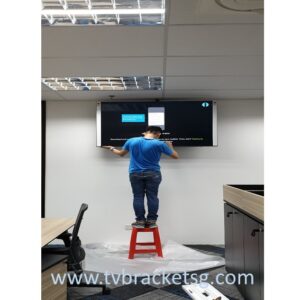 If you are about buying a new Television for the first time in years, then you might as well be prepared to learn the meaning of some new words. First, you should know that all the bigger models are 4K – Ultra-high definition, UHD – televisions, and they come with four times more pixels than the usual high-definition TVs.
This means that these models display pictures with better details than those standard high-definition TV sets. However, not everyone is aware of the additional details.
New TV buyers are usually excited about getting a TV that comes with a High Dynamic Range (HDR), as seen in most midsize and larger models. TVs with high-quality HDR display show brighter and more vivid images with more contrasts. These images have a wider range of colors, offering us displays that are closer to those seen in real life. However, we at Tv bracket Singapore have found out that not every TV model with HRD has the same performance. To help you in making a good choice, here is everything you need to know.
What is HDR?
Like in music where high dynamic range means the difference between the loudest and softest parts of music composition, In video displays, it refers to the rising contrast between the darkest blacks and brightest whites on a TV.
Quality TVs with HDR display better illumination of Images. Although high performing HDR TVs need to have higher brightness peaks, it doesn't mean the images have to be blinding bright. But, these TVs need to have the kind of brightness that can show the different elements in an image.
You should be able to notice the texture of bricks on a shady walkway or fine details of the white clouds during the day from the display of High-performing HDR TVs. Also, these TVs should be able to show more realistic highlights like the sun's reflection from the chrome bumper of a car or the wing of an airplane. These details should stand out with HDR. Without HDR, they are difficult to notice.
Images of high performing HDR TVs are usually vibrant with more different colors because HDR is combined with another more recent technology called Wide Color Gamut technology (WCG).
This technology helps HDTVs display more colors (almost a billion) than the standard HDTVs (approximately 17 million).
All HDR Tvs Are Not Equal
Not every TV set with HDR offers the same quality of images.
A reason for this is because most HDR TV models are not bright enough. High-performance HDR TVs usually have a higher peak of brightness. Many HDR TVs in the market don't have the brightness to offer you the HDR experience seen in better performing models.
How to Tell a Great HDR TV From a Bad One
It's difficult to tell a good HDR TV from its packaging or its price.
However, some TV packages come with an Ultra-HD premium logo. This shows that a group called UHD Alliance has certified the TV model as high-performing. However, many manufacturers do not participate in the program.
You can also rely on some of the ratings used by some trustworthy brands like Samsung and Sony. However. Some ratings used by many companies in the market can be misleading.
Types of HDR
There are different types of HDR, depending on the type of technology used by the manufacturer.
Many manufacturers have adopted the HDR20 as the open standard technology supported by every 4k TVs possessing HDR, 4k UHD Blue-ray players, and HDR programming.
Dolby Vision, an improved version of HDR10, is promoted by several models like Vizio and LG.
Another HDR technology developed by Samsung called HDR10+ is supported by Samsung TVs and Vizio 4k TVs.
Mounting Your Newly Bought TV
Tv bracket Singapore offers you an array of quality TV brackets that allows for any viewing angle you want. We know that there can be space problems when living in apartments. With TV brackets, you can save space while giving your apartment a modern look.
We also offer you professional TV mounting services.
You may feel like hiring a freelancer is cheaper and easier. However, you might end up increasing the risks of having a problem with your installation and device in the future.
Tv bracket Singapore is a renowned and registered company that has been in existence for more than six years. Feel free to trust with your precious devices as we take responsibility in case of any accidents.
If you need help with choosing a TV bracket, we can guide you in picking the best one for your TV.
We also offer excellent customer services that you can reach at any time.  So you can always contact us if you need any help or guide on making the right TV and mounting decisions.