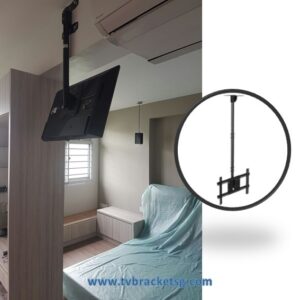 If you're considering investing in a TV mounting service, you'll want to know more about the process. Mounting your flat-screen LCD or Plasma TVs to the wall is an excellent idea.
Expert TV mounting services can ensure a clean and professional installation job with no hassle. So you don't need to worry about anything except enjoying it!
We provide excellent TV mounting services at fair prices. We offer fast installation, competitive rates, and high-quality materials so that you'll never have an issue again when it comes to finding someone who provides the best service. We guarantee a safe installation free from accidents. Our work is guaranteed so, if anything happens we'll cover costs.
Benefits of Professional TV Mounting Services
A TV mounting service is a crucial investment that will provide you with several benefits. Here are just some of the most significant reasons to hire them for your needs.
You'll get a perfect TV mounting
TV brackets help you watch your favorite programs in the best quality possible. With an expert mounting, you'll be able to see all your favorite shows with perfect clarity. The expert will give your television a professional installation by taking responsibility for all the drilling and measuring processes. It is frustrating when you spend a lot of time following the manufacturer's instructions and installing the TV bracket, but all goes wrong.
Fast and efficient installation 
You must fix your TV perfectly straight to ensure the best viewing experience. No one wants to spend hours mounting their TV only for it not to be straight. Luckily, expert technicians can ensure your television is perfectly mounted and ready for viewing in no time at all.
Perfect viewing experience 
The optimal viewing point depends on the seating arrangement. You need to adjust your television at eye level so that you are comfortable while viewing it. A professional knows it better to exactly install a television in the right place of the wall.
Reduce the risk of damaging your TV
You don't want to lose your flat-screen TV because of installation. Expert offers a secure mounting service that reduces accidental loss. Get expert advice from an expert on how to perfectly mount your TV without the risk of accidentally breaking it.
Secure and professional installation 
When you spend a lot of money getting new television, having it mounted perfectly is essential to keep this expensive investment intact for as long as possible. The best way to ensure maximum protection is by hiring a professional who knows what they are doing and provides additional support.
Get Our World-class TV Mounting Services
If you want to install your television yourself but are afraid of making a mistake, hire our experts! We can help with the installation process and will make sure that everything is perfectly done. Visit our site for more details. We offer TV brackets in Singapore and exclusive services that include installing.
VESA-compatible TV Brackets in Singapore
Are you confused about choosing the right TV bracket for your home? We provide a wide range of VESA-compatible TV Brackets in Singapore. Our experienced team can install your television quickly and carefully.
Professional installation services
We have over ten years of experience providing installation services. Reach out to our team today with any questions and get FREE advice!
Professional installation 
We know what you want and need in a TV bracket, whether it's for the living room or bedroom. You can count on us as we recommend which one best fits your home décor. Our TV brackets and services are durable, high-grade in quality, reliable for domestic and business use.
Professional and polite team
Our team is skilled, efficient, and responsive. We deliver high-quality work that you'll love. Our polite team makes sure you get your queries answered quickly! We won't let you down with our products and services. They are excellent, reasonable in price, and unique from any other stores out there.
Conclusion
A TV installation can get complicated. If you don't know what to do, it could fall and break, which is dangerous. Hire a professional installer for quick and efficient service instead of installing yourself.
When you invest in an expensive television, it's crucial to protect that investment. An improper mounted TV could ruin the wall and tiles of your home or even damage the screen itself. Trained technicians will use all necessary tools for mounting safely and perfectly.
Hiring an expert TV installer is the best way to ensure you get a secure, reliable installation for your television. We offer affordable prices and quality TV brackets in Singapore! Our team will install it quickly while still giving it that modern touch; our services are perfect for all types of TVs, no matter what look you want to achieve.