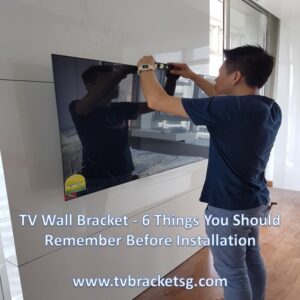 You can modernize your living room and present it as a comfortable space by installing a TV wall mount. It clears the room and gives a smart and stylish look. Fixing television to the wall with a bracket is attractive and it is simple to do. You require few basic instruments and a concise plan for installing a television wall mount. Surely you can save some money on mounting your flat-panel plasma or LCD TV on the wall by yourself; there are a few tips that will help your installation process.
Buy the Right TV Wall Mount for Your LCD OR Plasma TVs
Unique varieties of TV wall mounts in Singapore in different sizes and features are available at tvbracketsg.com, you can also get all types of accessories at a reduced price. We provide reviews of clients who have purchased and used our products with a complete guide you can save your money and time.
The TV wall mount offers different viewing angles. There are three main types of television wall mounts, pick one of them according to your room design. The fixed television mount does not allow rotating features. The tilting television wall mount is the best up and down adjustment while the full-motion mount rotates the television forward and backward and shift upward and downward. Choose a suitable model for an enjoyable watching experience as you expected after buying a flat-screen LCD or plasma television set.
Choose a Right Size TV Wall Mount  
The size of the television is an influential element for the perfect installation of TV brackets. We work with an advanced mounting tool that gives a solid brace for big-size televisions. The braces which are used to fix these mounts also depend on the dimension of the television. So the size should be measured in inches before buying a television wall mount.
Buying it from our reputed store and get expert guidance and advice on which size mount suits your particular television. Measure the diameter and the height of your television, and also weigh it. Now you can decide the size of the bracket needed to fix the television set.
Make Sure the Type of Wall for Mounting
The wall type is also crucial for TV wall mount fixing. Select on which wall you want to fix your television. You will need an electrician to install an electrical plug on the wall to efficiently cover plugs and wires. The wood wall has the struck hook for mounts hanging and fixing, while the normal cement wall can be mounted by making studs.
After finalizing all these factors you can proceed to buy and install the TV wall mount. Unusually, many people start installing television wall mounts without identifying wall types. The mounting is quite simple with wooden studs on the wall. Metal studs can make problems that require a more intimate inspection for efficiently fixing.
Collect all Tools that Required for TV Wall Mount Installation
TV wall mount installation on different wall types requires specific tools. You should make a list of the tools you require then proceed with the fixing of the television wall mount. Take a piece of cardboard that is equal size to your television and then attach it to the wall you can see how the TV will seem after mounting it on the wall.
Hide All the Wires for Perfect and Clean finishing
Manage all of the wires into the wall for perfect and clean finishing. This can do by digging a tiny opening in the wall near the baseboard and fastening a cord throughout the wires. Now by using a hook you can grip the cord and pull the wires up within the wall.
Locate Wall studs before drilling any holes
Mark the site many times before digging any holes. Find wall studs with a studding sensor, it is a low-cost tool that assists to locate these fleeting studs. Point out all the studs with a pencil and then support up the bracket on the wall. Make sure that the bracket is perfectly level before fixing it to the wall. Take the help of somebody to uplift the television over the wall mount. Surely, these suggestions help you to fix your wall brackets perfectly.
Final Thoughts
Assure that the TV is safe and clicks into position before you install it. Enjoy viewing your television from a more comfortable angle. The tvbracketsg.com  offers a wide range of high-quality TV stands in Singapore with installation services. If you want a great variety and expert guidelines then visit our most reliable plasma TV wall mount online store.