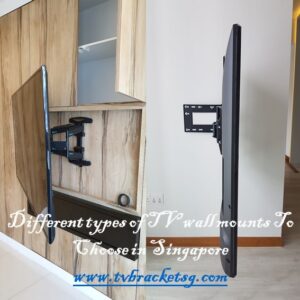 Whether you like your TV to be the highlight of your room or to discreetly set aside. Picking the TV bracket ideal for you will allow you to obtain the perfect room style and the best viewing location.
Consequently, you ought to plan where your TV will look best at home before you choose your wall mount and what is the major element for you. How you want your TV to be mounted and flexible would impact the type of mount you choose, as each bracket performs a single task.
You can get any of the bellow brackets below at TV bracket in Singapore. We also offer professional mounting services.
Type of TV wall mounts
Wall-mounted TV: a moving bracket or a flat TV mount, which is better for me?
You must choose if the way your TV bracket appears in the room is your prime issue? Or if it is better to get a mount with an adjustable angle? If your issue is the wall mount's visual appeal then you can try the low-key mounts below. However, if you prefer to have a wall mount with an adjustable angle then go for the movable options.
Fixed wall bracket or Wall mounting with a low profile
The most popular type of wall mount is the flat-to-wall. It is often called a low profile TV mount or a fixed wall frame. This sort of bracket does not permit you to rotate or maneuver the TV while it is on the wall. However, the TV wall mount is hidden and lies flat on the wall unseen. It is the ideal wall mount if you want one that you don't want to struggle with and that is not seen once it's up. This sort of wall mount fits all sorts of televisions. However, it does not fit flat-screen televisions that come with a protruding back. Check your TV specs always or ask a professional if you don't know if your TV is mountable.
Ultra-Thin Wall bracket
With the ultra-thin/slim-wall bracket, your TV is unbelievably close to the wall and gives a supreme minimalist look. When selecting this sort of wall mounting, you should also know that TV cables are better concealed on the wall so you TV if you want to get the look you want. This means this sort of TV bracket is unsuitable for apartments with partitioned walls.
Movable TV mount
A Swivel bracket is very identical to a flat/low-profile mount. However, it still permits horizontal movement of your TV. It normally comes with a slightly bent arm that allows for different ranges of motion. It is Perfect if you want the freedom to direct your TV at your kitchen, or sometimes at your breakfast bar. Some other swivel brackets mounts also have a tilting feature that allows the TV to change position vertically.
The Tilt Wall bracket is also identical to your flat-low profile mount but it permits the TV to tilt down instead of horizontally.
This will improve the view of your TV, particularly when it is mounted high on the wall or when the viewing angle is lower, like when using the TV in your bedroom.
The option of a tilt bracket helps you to adjust your TV location while retaining the low profile feature of a flat wall mount.
Full-motion/multi-position
The multi-positioning wall bracket is highly useful when you want to mount your TV in a corner of a room.
It helps you to completely adjust your TV to the ideal viewing angle. These brackets have a short stretching arm that allows the television to tilt to 14 degrees and to move to 180.
In Conclusion: The best bracket to mount your Tv on the wall
When deciding which bracket to better serve your needs, first choose the position where you want your TV to be and how you want to display your wall-mounted TV.
The fixed wall bracket is the most popular but you can adjust the viewing angle, while the tilt or full movement options offer you a chance to change and adjust to the viewing angle of your TV. This might be something like seeing the TV in your kitchen at multiple angles or not wanting it to be the highlight of your room until you are watching the TV.
It may seem easy to mount your TV, but it can be more complicated than you might think! That is why we at TV bracket in Singapore offers you professional mounting services. While it may seem cheaper to get a freelancer to mount your TV. Getting a professional service to do this for you offers you better benefits without any need to worry about problems in the future.
TV bracket in Singapore has been in business for over 6 years so rest assured you are getting the best professional service possible. We take care of our customers!