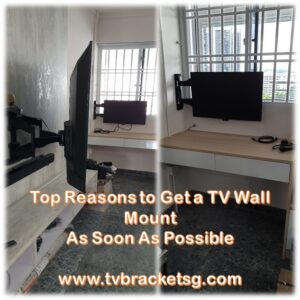 Are you caught between choosing a TV bracket in Singapore, TV wall mount or the TV tray for your flat screen? If the answer is yes, then you came to the right place. We will try to give you some benefits of using a TV wall mount and why you should get the implement as soon as possible. We will also try to give you some tips on what to look for when it comes to TV wall mounts in Singapore. Just read on to learn more about it.
TV Wall Mounts: The Major Benefits
If you want to have your own flat screen TV, chances are you have come across choice between putting it on a TV tray and mounting it on the wall. This could be one of the most difficult choices to make because both have advantages that you can use to make the entertainment experience even more enjoyable.
However, in this article we will focus on some of the major advantages you will get if you decide to focus on using TV wall mounts instead of trays. We will show you some of the reasons why you should get TV wall mounts as soon as possible. We will also show you how advantageous it would be to get the best TV bracket in Singapore sooner rather than later.
Are you interested to learn more? Go ahead and continue reading. You won't regret it for sure.
The Space
The first reason is its space saving feature. If you get TV wall mounts instead of TV trays, you will be able to save enough space for additional storage units inside their bedroom or living room. You will also be able to use the additional space for other decorative implements in the house.
In short, you will gain a lot of choices when it comes to design and function if you choose to wall mount your TV.
Design
Secondly, it adds to the design aesthetic. If you aim for a minimalistic interior design quality, A TV wall mount can definitely be a good addition to your project. It is simple yet elegant to look at. You will also be able to add to it or address it down accordingly.
You just have to make sure that you get a sturdy TV bracket in Singapore as soon as possible. By doing this, you will never go wrong in terms of interior design.
Versatility
A third reason for you to Get a TV wall Mount   or TV bracket  in Singapore   instead of A TV tray for your flat screen is there many design combinations that you can do with the implement. Because you have a lot of wall space that you can use with a TV wall Mount, you can add as a centerpiece to A set of picture frames you can hang on the wall. You can also use it as decorative additions to the home.
You will have many options available to you by using a TV wall Mount instead of A TV tray in Singapore.
Easy Installation
In addition to this, you should also buy a TV wall Mount because it would be easy to install. Just follow the simple instructions and you will be able to use the wall Mount without difficulty. You will also get copious amounts of customer support if you ever decide to get a TV wall mount. Our website TV Bracket SG will provide you not only with ideas as to which TV bracket in Singapore you should get.
You also find some easy to follow instructions regarding TV wall mount installation in the future.
Security
Lastly, you should buy a TV wall mount instead of a TV tray because it will be more secure to fasten down the line. TV trays are not steady because of the wheels and could easily be bumped along the way. This will pose as more of a danger to anyone who watches the TV.
If you mount the TV on the wall, it will be safe from other objects that might cause it to fall down from the tray.
The Conclusion
These are just some of the main reasons why you should get TV wall mounts and the best TV bracket in Singapore. It will give you comfort and entertainment all in one package so you will not look for more in the end for sure. What are you waiting for? Go ahead and give it a try. It will be a good investment not only for yourself but for your family's entertainment in the end.