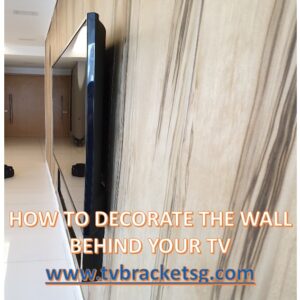 99% percent of us have a television in our various homes and it is usually located along a central wall in the room. Once the TV is placed on the wall, the next question is: what do I do with the wall behind the TV? How do I decorate the wall behind my TV?
As simple as the problem may look, it is one of the most frequently asked questions. Most people wonder if they should get some art and hang it around the wall or leave the TV wall blank, or even place a bookcase on both sides.
Well, I've got good news: there are different ways to decorate the wall behind your TV, so just keep reading to get the 5 best wall decorating ideas.
A Faux Built-in
The first on my list is mounting your TV on the wall, then have floating shelves and low bookcases to give this super built-in look. The look gives your room the illusion of a permanent appearance without making any changes.
Use an open shelf, a closed cabinet, or a TV console to give this classic arrangement a light and airy feeling. This décor also adds more living room storage above and below, which in the end gives you space to organize and display your books, arts, and other forms of décor.
For the lower shelves, using a basket is the best way to hide your spare cables, remotes, and other TV gadgets and clear other things that might make your room look cluttered. This décor is perfect especially for rental spaces, and people with really large living room walls.
A mixed media Wall décor 
Next on our list is the idea of having a mixed media wall décor around your TV. Mixed media such as decorative objects, vases, plants, framed arts, and ceramics can be arranged around your TV while you have your television sit on the console. With this, your television becomes part of the décor instead of the focal point.
For some people with a long stretch of wall, you can also put together two identical consoles to give your living room an asymmetrical mixed media look. How do you this? You have to position your TV on one side and have your floating shelves on the other side.
This idea will not only make your wall look like one streamlined display but the shelves also offer more storage. This décor idea is perfect for living rooms with long and large walls, narrow, or room that needs extra space.
TV inside a cabinet
You can also keep your TV inside a wall cabinet if you don't like the idea of your TV being outside especially when it is not in use. Using a wall cabinet to conceal your TV means that you do not see the TV except the cabinet doors is opened.
Select a good cabinet that will naturally integrate and go with whatever styles your room has. This décor idea is perfect for formal living rooms and bedrooms, especially when you want a TV but don't it to be the focal point.
Covering your TV with a curtain
I'm sure you just realized that curtains are not meant to cover your windows. They can also be used to conceal your television. For people with a fireplace in their living room, all you have to do is place your TV on a console in the inlet, then hang the curtains in front of the inlet.
With this idea, you can simply pull the curtains to cover the TV especially when it is not in use. This will make the room look like it has large windows and the fireplace will remain the focal point. This idea is perfect for folks who like a streamlined and clutter-free look and also for rooms with cabinets, especially in small apartments.
Gallery Wall
We decorate the walls behind your TV by making the wall full of art frames that disguise the TV within a gallery wall. This décor idea will take the focal point to form the TV and also make the TV more decorative and beautiful.
With this décor, you can use any type of art, any style, and make give a unique look of your preference. You can go for different decorating styles such as grid layout, art prints, electric gallery, or even family photos. This idea is perfect for rooms with a TV located along a large wall with plenty of wall space.
Final Note
Knowing what to us to give your space a nice look can be frustrating, which is why we have listed ways to decorate the walls behind your TV and bring life to your living room.  Looking for best tv bracket in Singapore, click here!