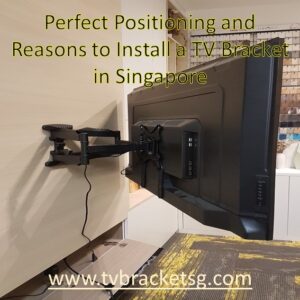 Are you worried concerning how well to place your TV bracket in Singapore for perfect viewing? Worry no more, the following guide will provide you with the right manner to do so and give you pointers on what to consider. As expected, the weight and size of your TV is a determining factor. The same is true of the size of your home. However, despite these factors, TV mounting will help resolve the issue of space, weight, and size of your home. Once you get that professional to mount your TV bracket in Singapore, here are a few reasons to know about why mounting your screen is necessary.
Prevents Eye And Neck Strain
Naturally, a mounted TV will be far from your eyes and you will have eye strain. In addition, the position regardless of whether it is on your ceiling or wall will prevent any type of strain your neck would have. As such, with a tilt, swivel, or angled position, you are ensured of less eye or neck strain as you enjoy your entertainment. You may be enjoying some movie or gaming; regardless, you have what we may call the best-placed screen on your wall. TV brackets in Singapore are easy to come by and there are technicians for installation. Therefore, be sure to give the professional your requirements and they will do the job right.
Increase of Space in your Home
Consider the old televisions in the 1990s and how much space they took up. That is not the same for the flat and curved HD televisions once mounted on your ceiling or wall. What you need is to create more space in your living room or bedroom, or office. By using a TV bracket in Singapore, you are doing just that. Creating more space on the floor for more furniture and placing the TV on the wall.
Less Likely To Get Damaged And More Durable
There is little likelihood that your children playing will mess up with a high definition TV that is placed on the wall. In addition, when using your Xbox during gaming, there is no possibility of harming the screen due to rapid movements especially if you are working on a multiple player game. Also, consider pets and realize that TVs that are placed at a low position are most likely to incur damage from your pet.
Prevention Of Injury
High Definition TV's that are placed in a low position may cause injury in case a child is loitering around them. If the TV drops from a table or cabinet, it will result in the injury of your child or anyone else around the house. When the TV bracket helps you mount your TV in a high area on your wall, there is no chance of these accidents happening.
Helps Prevent Damage On The Cables
You may have coaxial cables, TV consoles, and Set-top boxes that have long wires. If this is the case, a high leveled TV bracket will ensure that there are no damages to any of the wires. Furthermore, consider some insulation that will handle the wires that come from the TV and prevent contact to the ground too. 40 inches above the ground is the ideal height for your TV screen. Also, consider the angle as it may affect your eyes or your neck due to strain.
Wires Within The Wall
Naturally, flat-screen TV when connected to a TV bracket may require some drilling into the wall. Ensure that before the drilling of screws begins, you are aware of the wiring system in your home or office. Affecting the wiring system will mean that you are also cutting off the source of your entertainment. Therefore, look for the blueprints of your home before the commencement of any wall drilling.
Conclusion
To surmise, we have discussed how you can successfully install a TV Bracket in Singapore and the reasons why you need to do so. Note from the above discussion that there is space saved around the room where you mount your television. Also discussed is the fact that you manage to avoid eye and neck strain by placing your screen at a certain angle. Use the above pointers to ensure you know succinctly why you do need to mount your screen onto your wall. Also, higher-good technicians who will help you avoid any damage that could occur to your home or screen during installation of the TV bracket.