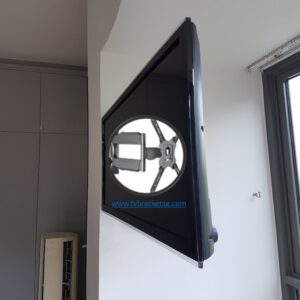 Electronics measure up assets in a home. A home without electronics especially television may be looked up as bare and empty as there will be little entertainment which will increase the liveliness in the home. With quality electronics in the home, you are assured to get the best viewing experience while at the same time creating the spice and cinematic experience this will bring into your home.
This certainly will not be the case for viewers with old or sub-par television as you can't assure the best viewing experiences for your viewers especially if you have family that spends quality time watching television.
Televisions like a 40-inch size is a perfect combination of function and appearance; since it gives you a great cinematic experience and a blend of the latest tv technological advancements. Its features are well suited to give you the experience worth its price.
Features to encourage and increase your viewing time are its image quality, its blackness, and its resolution. This will guide you on the 5 best 40- Inch Tv, it finely features best suited for you as a buyer in Singapore, and why it's your Tv choice for 2021.
Let's take a look.
LG OLED48CX6LB 48-INCH SMART 4K ULTRA HDR TV (2020)
Its superior picture quality is a strong reason you will want to check out and the optimum viewing angles make viewing from any direction easy. It comes in a screen size of 48 inches with a direct LED panel type.
Its sound system is Dolby Atmos and is sure you are offered a 4K resolution. This design comes in a W42.3 x H25.7 x 10 Inches dimension; be rest assured it won't take all of your space.
It's your choice since it provides and unleashes excellent image quality, excellent sound performance as a result of its sound system and superior viewing angles. It comes also with a magic remote to control gestures and how best to blend into your smart home.
SAMSUNG THE FRAME 43- INCH QLED ART MODE TV (2020)
It features a screen size of 43 inches, and Edge QLED panel type, and a screen resolution of 4K. Its sound system is Dolby Digital Plus. The dimension for this spec is W96.6 x H55.53 x D4.58cm while weighing 11kg.
It's price-worthy since it portrays a gorgeous look in any space while providing a great viewing angle for viewers from any direction and hangs well to the wall since it's mounted with no gap creating a beautiful blend-in to your wall. It brings in a new AI-based curation feature.
SAMSUNG TU8000 HDR SMART 4K TV
There's a 43-inch screen size with a 4K resolution. A LED panel type with a weight of 8kg and a dimension of W96.39 x H55.89 x D5.96cm. It provides you with built-in voice assistants and excellent targeted sound.
PANASONIC HX800 40-INCH 4K MULTI HDR LED LCD SMART TV
It's packed with a 40-inch screen size and Dolby Atmos sound system. Screen resolution of 4K and a LED panel type. It comes with universal HDR support and a dimension of W90.1 x H51.7 x D6.3cm.
PHILIPS AMBILIGHT 43PUS7805/12 43-INCH TV
This design offers a 43 inches screen size and a LED panel type. Its sound system is Dolby Atmos with a dimension of W96.7 x H58.95 x D18.9cm and lightweight of 8.8kg while also offering a 4K resolution.
Final Thoughts
Electronics are beautifiers in the home and if you are after quality to enjoy a cinematic experience; the 40- inch TV is your best line of thought.  The single arm medium tv bracket is suit to all 40 inch tv in Singapore.
However, there are still many other types of good choice of tv mount for you to get.
You should trust TVBracketsg.com as we are provide you tv bracket products in Singapore directly from the manufacture and assuring you of quality and durable products at reasonable prices to give you a good experience.