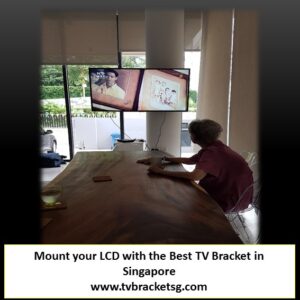 When you plan to install your latest LCD on the wall, then the first thing that you need to consider is the type of TV bracket you need. It is frustrating to differentiate between fixed, swivel, and multi-position TV brackets.
You can visit our website TVbracketsg.com for durable TV brackets in Singapore and high-quality installation services. We supply the most reliable, stylish, and latest products for your television display. You should perceive reviews posted by many clients on the websites about wall mounts to choose the right TV bracket for you.
Benefits of Mounting Your LCD TV
It secures your children and pets from any accidental situation while they play near the television.
It has an apparent enchantment that makes your home more attractive and charming.
Mounting television on the wall provides frees space and your room looks more organized.
Choose the right Place to Mount your TV
Installing a television on the wall gives your room a more organized and spacious look. It enhances home furnishings which improve your television viewing positions. Ensuring that you're in a suitable position to turn and enjoy your favorite shows.
Choose the best location to install your television; you can place it in the center or the corner of your living room. Depending on the kind of TV bracket you can decide your desired room location for TV wall mounting as well as managing the best viewing angle.
To completely hide suspending wires attach them to an outlet. The TV shouldn't be placed to unessential light from sunlight. A fireplace is also not a good option for TV mounting. It could be attractive to mount your television over the fireplace but it is terrible. You should use a particular manufacturer's guidance for your TV brand before installing it on the wall. Choosing the right location for mounting your television may seem easy but it can confuse you than your expectation.
Check your TV specifications
If you already have purchased a flat-screen LCD and now planning to buy a TV bracket in Singapore, then you need to check the specifications and features of your LCD. It is a more comfortable and quick way to get the right TV mounts for your television. TVbracketsg.com offers VESA compatible TV bracket in Singapore at a reduced cost. Our customer support team is proficient in guiding you to choose the right TV bracket and its installation as well. We offer high-quality mounting services and a variety of TV brackets in Singapore. Buy a television mount according to your room layout you can enjoy a full-motion TV bracket in a spacious living room.
VESA Specifications
When thinking about buying a TV bracket for your television, check VESA specifications. The VESA designation describes the size contrast between various products. VESA supports our customers to choose a compatible TV bracket with their television.VESA is very helpful with size as it has a standardized set of designations for products.
Select the Right TV Wall Mount
It is important to know that different TV brackets require specific tools to be installed on stone or cement walls. Get the television wall mount that suits your wall condition.
To avoid light when seeing your television, a full-motion wall mount is much suggested for you. Don't forget to check the maximum load that your selected TV bracket can bear. Ensure that you choose the right TV bracket for your television display.
Visit our website, we offer a wide variety of TV wall-mount that accommodates different television screen sizes. Our products are made of high-quality materials that are strong enough to support the weight of your television. We supply durable, smart, and suitable TV wall mount products with the latest designs.
Conclusion
A TV bracket protects your television from accidental breaking and improves your watching experience. If you need to keep the middle of the television screen higher, then you should get a tilting mount bracket for you. Due to simple installation, fixed wall mounts are more demanded and improve the TV bracket industry.
If you plan to buy a TV bracket in Singapore, visit and check out our products and services. You can ask our expert team for advice to get the right TV bracket in Singapore with high-quality installation services.