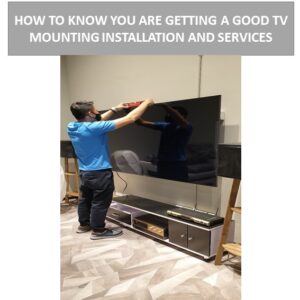 Are you planning to mount your newly purchased TV on the wall? Well, that's a good move because wall-mounted TVs are better, easier to view and safer for families, especially with kids around.
However, it doesn't matter if you are quite handy with tools or have a little idea on TV mounting, it is advisable to leave the TV wall-mounting to the professionals. You should not just pick up your TV and hang it on the wall because you have a little information, which would be you putting your electronics at risk.
Now that you have decided to hand over the wall-mounting project to professionals, how do you know that you are getting a quality installation? What should you look out when selecting professionals to handle your project?
Don't worry; we have put together a comprehensive list of what to look out for so that you can be confident that you will get a clean, decent, and professional job. Keep reading and take action at the end.
Checklist for selecting a TV Wall Mount Installation Service Providers
Getting a right service provider is quite simple and straightforward; you can sit back and go through our comprehensive list, and if you can mark at least more than half on the list, you have a professional.
Safety 
A professional TV mount installer will make the right decisions when selecting the suitable mount for your TV, finding the right wall studs. He/she will be focused on safety for the electronics, your wall, and the client as well.
Experience 
Installing a TV bracket in Singapore might look relatively easy, but you need a lot of experience to be able to mount correctly. The experience will get the job done quickly, neatly, and safely.
Good Customer Service
Getting an Installation service provider with excellent customer service is very important. As a client, you should expect a very friendly, smart, with the ability to give quick response and render assistance.
Technical Know-how
The professional should have satisfied industry knowledge to be able to use just the right equipment, integrate, and even improvise. Make sure the professional has the requisite certification to do the job you hire him for.
Quick Service
There is nothing more exciting than a company ready to deliver as quickly as you request. You should not have to wait for weeks before you get your TV mounted. Quick turnaround is one of the strongest hallmarks of a good professional, particularly a TV installer.
Proficiency
It's not enough to know how to do the technical part of the installation like drilling, and you also need to need to get a professional who also knows how to handle extra services. Services like concealing your cables to make the arena neat, be able to diagnose and fix any issues that may arise.
Trustworthy Advice 
Sometimes, you might just have some questions about the setup, the channels to expect or generally about the TV. Go for a professional that will be able and happy to give you the answers to your questions and whose solutions will be trustworthy and backed by experience.
Attention to every detail 
You must hire a professional who before jumping into the mounting, settles down and study the room. Look for a professional that will examine every detail like your room layout, best viewing angles, sun glare and every other detail.
Professionalism 
The way you are being treated when you first approach a company will give a good idea of how professional the company is. Therefore, if you still have any doubts, don't book or you might end up with technicians who are likely to cause more damage.
Final Note
Guess what? Many self-acclaimed technicians, including the conservative certified and professionals don't want to jack up their skills. Ironically, the structure and design of most of the modern-day TVs require expertise to mount.
At TVbracketsg, we only send professional technicians that offer first-class services and also provide you quality products. Our technical service providers are up-to-date in terms of skills and acquittance with modern electronics. We remain confident that you will get the professional and top-notch experience that we promise. You deserve to know the value you're getting in any services you're paying for.