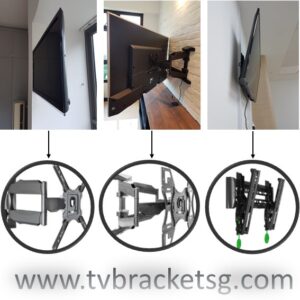 A home is different when you have complete set of home furniture, accessories, devices and set of machines or technology. Life is so much better with the best devices at home in placed. Every house must have a television that makes a family bond and gather together. It is so much fun when you have a flat screen television that is mounted in a good position. The television which is mounted at the wall looks fascinating and classic. A TV bracket in Singapore is one of the best and must to have when mounting a television on the wall. Your family will surely love watching on it and you can have your space minimized at home!
TV Wall Mount Options
A Fixed or Low-Profile TV Wall Mount Brackets. It is the easiest way and the cheapest to install a wall mounted television.
Advantage
Disadvantage
Cannot tilt
Cannot Adjust after installation
It is consider as the most expensive type of television wall mounting. It is adjustable and can be move in any motion.
Advantage
Can be move in any motion
Easy to adjust
Easy access
Disadvantage
Expensive
Installation is complicated and difficult
Tilting TV Wall Mount
It is another option or alternative when you want mounting your TV on the wall. It can be tilt around 5 degrees to 15 degrees vertically adjustment. The vertical viewing adjustment is made possible for a better viewing experiences in your home.
Advantage
Installation at a considerable price
Can be tilt vertically and horizontally
Easy to install
Disadvantage
Tilting has limited motion
Benefits of Television Wall Mounting
Safe from damage
Attractive
Classy and Modern
Secure on the wall
Well-positioned
Well-mounted
Adds to room design
Makes home luxurious
Minimize space
Fascinating View
Considerable Price
One time installation for a long-term period
Adjustable
Hide and organize cables
Nothing beats a home with a furniture and set of technology that are placed and positioned aesthetically. It adds up to the design and wonderful ambiance of the room. You don't have to worry on how you will mount your television because there are experts who can do and assemble it for you. The wires are organized and well-placed, making it clean and have an exquisite appearance. When you talk about TV wall mount, it is not about accessory anymore, it is consider a necessity.
Mounting a TV anywhere on your house on the wall is very challenging because it must be placed carefully. There are many professionals who can make skilled work and expert exhibition of installation. Before placing your flat screen TV a bracket should be fix and assemble first on the wall, just like a TV bracket in Singapore that people used.
When you are planning to have your TV mounted on the wall, TV bracket in Singapore is an in demand choice that you can choose. They also offer TV bracket installation service efficiently and are very professional in the procedure of well-mounted and well-positioned TV on the wall. They also offer immediate solution to any issues, concerns and problems upon installation.
They are a trusted company that provide a quality services to all customers and clients. They can answer concerns and inquiries correctly and professionally regarding the TV wall mount installation and other related services.
A registered company of the TV bracket in Singapore has been on this field of expertise for 6 years. They build a strong and credible appearance and judgment from their clients' experiences, testimonies and feedbacks.  They have good background and experience in customer service. They meet expectations of the clients and take good care of every customer's needs and desires.
Don't hire people who are not guaranteed expert and skilled enough. Don't trust random people for you home devices service's needs. This company will assure you that you will be satisfied and feel secure to their work installation and services. They are also good in taking responsibility on property accidents and damage and making a mistake upon installation works. A best piece of devices and equipment are provided for you to have a quality products and services. Contact the company or visit their page at https://www.tvbracketsg.com/blog/ for a better viewing experience. Make your movie time amazing and angle-comfortable watching time through the company's work for you.