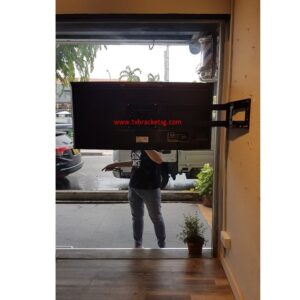 You would agree that mounting your TV on the wall helps improve the visibility of the view and, of course, frees up enough space in your room. But then, the next question comes, what do you do with other companion equipment?
Equipment like your cable box, game console, Blu-Ray devices, DVD player have to be packed somewhere as well and close to the TV. The best solution is to have your TV mount combined with a shelf.
However, before having a fusion of the TV bracket and rack in Singapore, you should put some things into consideration and pick just the right shelf for your TV wall mount.
Integrating An On-wall Rack with your Mounted TV
This is a sleek, versatile, strong, and floating shelf unit that is usually mounted directly below your TV and is able to hold other components up to 15 pounds. This on-wall shelf is a perfect choice for viewing spaces that probably require only one or two components like a kid's room, a small room, or a home gym where space is quite limited. These on-wall shelves can be adjusted to fit your specifications, and you can also introduce more shelf units to hold more items.
Different types of these on-wall shelves are available in different styles. The latest designs of these shelves are really nice ones because they blend perfectly with your television screen. They make the TV and Av equipment look like it is just one unified unit. We also have traditional designs, which are excellent as well as they can smoothly blend the modern high-tech side of your lifestyle with different styles and traditional décor.
Also, you shouldn't be worried about the different wires hanging down your wall because some of these on-wall shelves come with built-in concealers to hide the cables. Apart from these exciting features, you should also know that it takes only a few minutes to install the shelf.
A Built-in Design Around your TV
This is another option for you to get the right combination of an on-wall shelf with your wall-mounted TV. You can go for a built-in entertainment center that can occupy an entire wall if you so desire. However, this built-in design is more of a deluxe option and often requires careful planning with your mason. However, with some good DIY skills, you can also convert any wall into an entertainment center or a built-in media center. You can then integrate the wall-mounted TV with this fantastic shelf concept or use the built-in shelves to hold the AV components.
Freestanding Cinema Center
Let's say you don't like the previously listed options, you can stick with the freestanding entertainment center. This is quite an easy shelf to get as it is commercially-made and made in different styles, sizes, and price ranges.
However, you can also show a bit of creativity and good DIY skills and convert an old bookcase or dresser into an awesome standing shelf to accommodate your screen and other electronic devices and components.
Final Thoughts
By having a combination of a TV wall mount and a shelf, you can change the look of your TV display and make your screen the center of attention. With this combination, you can make your viewing center more exciting and also be able to make it disappear when not in use.
Finally, you don't have to mount your television on any furniture, you can simply mount it on the wall and keep other components to achieve a clean, neat, and coordinated look, which is why at TVBracketSG.com, you can get a list of options for different TV mounts.