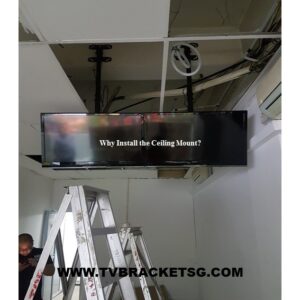 Have you ever visited a supermarket and noticed that you were still able to view the TV while in the queue? Or been in a bar and was still able to watch the screen unhindered? That's the power of a ceiling mount.
The ceiling mount, just like the name suggests, suspends the TV from the ceiling. This mount is unique for both home and commercial use. It helps in saving floor space and is perfect for a place whose setting is continually being changed.
The mount ensures that the displayed information is accessible to everyone in the vicinity. The mount is highly flexible and can be rotated to any angle of choice. Luckily for you, our company offers the sales of this product as well as the installation services for your residential and commercial purpose.
Why Install the Ceiling Mount?
There are so many reasons why you should install the ceiling mount in your residence or workspaces, among the reasons are;
More Space – Installing the Ceiling mount for your TV will guarantee of more space for your room or office.
Safety – You can keep children from trying to touch things at home, so to avoid any destruction and injuries, it is advisable to install the ceiling mount to keep the TV out of the kids' reach.
Easy to Clean – With our ceiling mount, less trouble to pull the TV from the wall when removing dust from the back of the display.
Convenience – It is safe to say that installing the ceiling mount gives more convenience and comfortability.
At TVBracketSG, our ceiling mount fits most 32″ to 70″ flat-panel LED and LCD TV. It complies with VESA regulations of 100*100 ~ 600*400mm and has a tilt of -5°~ +15° and rolls through -30° to approximately +30°. It has a surface treatment of powder painting coat finish and is black.
Key Features
It has a load capacity of 150lbs and
It is made of SPCC material.
It has a maximum height of 28.2″ (718mm) to 62.4″ (1584mm).
The ceiling mount is made of highly durable material, and its adjustable height makes it possible to change to our desired height and watch the television from varying angles.
The mount gives an air of sophistication to either your home or office and reduces accidents from tripping over wires as the wires are nearly out of reach. This goes a long way to keep your environment free from obstructions while giving a great experience.
Our team of qualified and highly experienced technicians is available to offer free advice and help in choosing the ideal mount based on your television size.
Why You Should Choose TVBracketSG:
At TVBracketSG, we offer reasonably priced products and services and we ensure that the products and services we offer are worth the fees we charge you.
Our ceilings mounts have been proven to be of good quality, durable, and safe for both residential and commercial use. Our products are made with a telescopic steel pole that lets your TV suspend a display at your desired distance. With our ceiling mounts, you are able to adjust your TV to your comfortable viewing angle and swivel the TV to work virtually with any type of ceiling.
TVBracketSG team is a group of well experienced, reliable, professional, and locally-based people who understand that client's requirement and expectation differs. With the level of understanding and professionalism, our team is able to deliver quality and professional workmanship as well as giving professional recommendations and advice to our clients on selecting the most suitable ceiling mount.
At TVBracketSG – tv bracket in Singapore, we not only offer sales of products, but we also offer excellent delivery services. Our professional drivers and team are able to deliver the products and install the ceiling mounts safely and excellently.
Conclusion
You remember the age-long Chinese saying that the best time to plant a tree was 20 years ago. The second best time is now? If you've not had a chance to get the best ceiling mount that delivers quality service, you may have been dealing with the wrong brand.
Make no mistakes about it, if it is not TVBracketSG, then it is the wrong place to go and choose a ceiling TV mount. After all, you won't have to break the bank before you have this amazing mount in your living room.