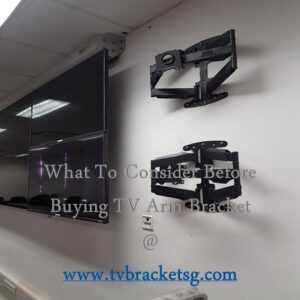 With the kind of technologies that manufacturers are producing these days, it is becoming increasingly tricky to choose the right TV arm. The situation becomes more confusing when you consider the variety of products and brands out there.
But as an electronic enthusiast who loves to enjoy each time, you're on for your favorite TV shows, it is best to buy the best monitor arm. Especially if you're in Singapore or you're having a tour of the beautiful city, the best place to visit and get a top-quality TV arm is TVbracketsg.com.
At TVbracketsg.com, you can get real value for money. It is the right place to be for all your TV arms. But wait, you need to learn what to look for when you're planning to buy a TV arm from this article. Let's find out.
What to Consider When Choosing a TV Arm 
A TV arm helps your Tv to stay secure in place when you want to either wall mount it or put it on a stand. Whichever way, you'll a TV arm to be able to give you the desired viewing position. This way, you'll need to consider some factors before opting for any TV arm product.
Arm Position/Movement
Knowing the position and movement of your TV arm will go a long way to help you choose which of the TV mount you'll be going for.
Typically, there are two types of movement your TV arm can make and you should be aware of both. Your TV arm can either swivel or spring. When your TV arm swivels, it means that it can move on the horizontal plane. By this, we mean that the arm moves from left to right and vice versa.
On the other hand, a swing movement means that your TV arm can move on the vertical axis. However, there are TV arms that are designed to move both ways and perform the two movements.
The Number of TVs
Another factor you must consider before buying a TV arm is the number of TVs you'll be installing or mounting. Depending on the setup you wish to have at a time, the weights and sizes of the TVs differ from one to another. You'll need to have a clear idea of how many monitors to what type of TV arm you'll be buying.
The good news for buyers of TV brackets in Singapore is that they have access to a wide variety of Monitor Arms to support up to 6 monitors in a single setup. For instance, a 2-TV setup can support a 27" or 12kg monitor.
Type of Mount
Another important factor you must take into account when looking for a monitor arm is the type of mount. A mount will determine how firm your TV is with its position. Typically, there are types of mounts you can use for your Tv and they're all available at Tvbracketsg.com. We have the C-clamp, wall mount, and grommet mount.
The C-Clamp is a type of mount that clamps itself to the edge of the table. which makes it easy to install without the use of any power tools. This is our most popular type as our customers tend to avoid any drilling.
Room Space
This may sound weird but you must measure the available space in your living room. Besides, you should also take the accurate measurement of the space the TV will occupy on the wall to accurately determine what size of the arm you'll be buying.
Final Thoughts
Make sure these ideas lead you to the right seller in this saturated market. But there's a place for you in Singapore to get the best TV mount. What are you waiting for? Are you interested in buying the best tv bracket in Singapore?
Then, the right place for you is tvbracketsg.com. They have an incredible name and history behind them. And you can be sure you won't go wrong if you choose this one-stop store for your all electronics needs, including TV mount, TV bracket, TV Wall mount, and more.
At Tvbracketsg.com, we also offer after-sale services that include technical support, customer care support, as well as support for installation, repair, and replacement.