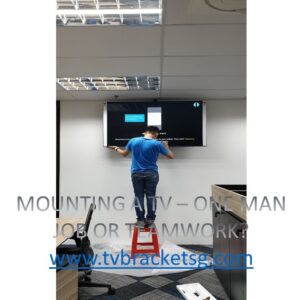 You don't want to hurt yourself in the course of mounting your TV. You also won't want to start asking for help or hiring another person's service when you can easily carry out a TV mounting task. Whichever way, you will need to figure out what manpower is needed to mount a TV to the wall.
Most times, people find mounting a TV to be a tough and complicated job that needs a lot of hands for completion. But, it is not entirely true. Mounting a TV is not a team sport at all, but depending on the size of the screen, you may need to get some extra hands to mount properly.
However, mounting the TV mount itself is quite a simple one enough for one man or one woman to handle. You have to first understand the basics of mounting the TV mount before deciding whether mounting a TV is a man's job or teamwork. Let's get into the fray.
The Basics
To get a better understanding of the basics of mounting a TV, you have to check to confirm the mounting assembly. But, mounting a TV can be done in three simple and easy steps:
Place the mounting bracket on the back of the television
Fix the wall plate bracket to the selected position on the wall
Hang the television (although, this step might require some extra hands)
Bring together a team anyways
You could say mounting a TV by yourself may be a simple and easy task to accomplish on your own, and pretty fast as well. But getting extra hands is not a bad idea to try out. Turning your TV mounting project into teamwork only means that you get the TV mounted in a matter of minutes.
Also, if you have a large TV, then mounting it all alone is going to be nearly impossible. So, depending on the size of your television screen, decide on the number of hands you want to add to the job.
Not just picking a team, pick a team member, or someone likely to assist you with mounting the TV on the wall. Once that is done, it's time to assign the rest of your team to handle other functions.
Be Sure To Have Just the Right Equipment for The Job
First thing first, have your team members hang your current television or something that looks like a TV screen on the wall. However, if you decide that the TV has outlived its purpose, then the option is to cut it or put it in another room.
So, let's say you are going for a new TV, you have to first put some things into consideration. Things like what size suits your room, the best place to mount the TV, and window or indoor glare. Also, options like the ideal location to mount the display should be considered before going on the journey.
You can also check out TVBracketSG.com to see the different types of TV mounts and select the ideal one you think is best for your space. Use the opportunity to select just the best for your room, so that you don't stand in front of your TV and realize that you should have gone for the full-motion mount instead of the tilting mount. You can also opt for platform mount, under cabinet mount, ceiling mount, or cantilever mount.
Once you are ready to mount your television screen, you can now call for help to get enough hands on the job. With valuable hands around, you should be able to find the studs and be finished with mounting your TV in a matter of minutes. After that, the next thing to do is sit in front of the TV, enjoy your program, and chill.
Final Thoughts
On a final note, remember that mounting a TV mount is not teamwork. But at the same time, you should also consider getting more hands on the job if you have a large screen. Don't be pennywise and pound foolish or assume the Superman role. After all, your body will feel the impact.
Regardless of whether you'll be mounting the TV all alone or searching for tv bracket company in Singapore, the following tools will be needed: TV mounting kit, screwdriver, pencil, tape measure, level, and a power drill.