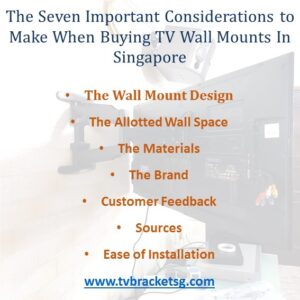 Buying a TV bracket in Singapore can be quite challenging if you do not know where to look. You would have to consider the material as well as the weight of your TV bracket or wall mounts if you want to have an efficient implement to use for entertainment purposes.
If you want to have the best when it comes to TV wall mounts, it is important to consider a few simple things first. These particular criteria will allow you to make the right decision when it comes to  the specific product that you would be buying as soon as possible when it comes to mounts in the long run.
The Top 7 Criteria to Look For In A Singaporean Wall Mount
The Wall Mount Design
First, you have to think about the design of the wall mount. You can both have an articulated or a full TV bracket if you wish just as long as you are able to use it properly and with ease. You can even choose a steady wall mount if you don't want too much movement and redirection happening while watching TV.
The Allotted Wall Space
Secondly, you have to think about The space that you have at home. Will it be able to accommodate a large flat screen TV on the wall? By considering the space of your own apartment, you will get to choose the right kind of TV wall mount for your specific wall.
Usually, people really don't have a problem by using a wall mount mainly because we have a large enough wall to hang the TV on. However, in a small room it may still be an issue. That's why you have to make sure but you have enough wall space for a flat screen TV. Otherwise, use a TV tray to position your television set. It will even give you more storage down the line.
The Materials
You also have to consider the materials used before purchasing a TV wall mount. The material should be able to support the weight of the flat screen. For example, stainless steel wall mounts and Singaporean TV brackets can definitely be a good investment because of their durability. You will never go wrong with this particular decision at all.
The Brand
Think about the brand that you would want to use for your TV wall Mount. The brand can offer you reputation and product quality if you choose the right one. Look for a company that has been around for at least a few years now so that you'll know that the company you're working with his reliable.
Customer Feedback
Do not be afraid to look into customer feedback before making a decision. This way , you can be sure that you are making the right choice with any insurance agency with your going to work with and the future.
Sources
Also, you would have to make sure that you would only get a TV bracket from Singapore or similar wall mounts from reliable and reputable sources. This way, you will be able to receive sufficient customer support along with the many other benefits that you can get.
Ease of Installation
You also have to consider if the TV wall mount would be easy to install. Some customers already express their desire to use a TV wall mount. However, the only problem is that some wall mounts are not easily installed. If this happens, you may need to call for additional help.
It would be best for you to look into instruction manuals first before trying to call customer service for help. This way, you would have exhausted all efforts on your own before asking for help from the professionals.
The Final Words
These are just some of the major considerations that you need to make before buying a TV wall mount. By knowing these pointers, you will be able to make informed choice and not just rely on any kind of online information when it comes to TV wall mounts.
Now that you know the basic considerations that you need to make when buying a TV bracket in Singapore, all you need to do now is to log online to find the best options when it comes to TV wall mounts.
We at TV Bracket SG will definitely be able to help you find the best TV wall mounts or a TV bracket in Singapore out there. We will even give you some tips on how to install it on your own and give you a way to contact professional installation experts if you really can't do it by yourself. Go ahead and give it a try. You won't regret it.