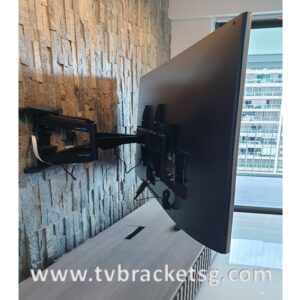 When you're selecting a TV bracket for your LCD or Plasma TV, it is a very critical job. Since you have a specific TV model, so you need to select that TV Bracket that perfectly matches your television requirements as well as the place you want to fit.
If you chose any other TV bracket that is made for some other brand or model that will not suit your LCD or Plasma TV, it doesn't fit and secure your TV. While selecting a mounting bracket that is suitable for your television and desired presentation position.
Whereas when you're purchasing a TV bracket, you keep in mind that, one is that this bracket is gripped your valuable LCD or Plasma TV. Hence, didn't buy a cheap mount TV bracket is not a good idea. It is better, for you, than go for a reliable brand and merchant with the supreme agreement for your valuable electronic gadgets.
Available varieties of TV brackets in Singapore
There are so many varieties of TV brackets in Singapore available for every model of television and the place of display. These verities are suitable according to the place and model.
Flat Mounts Brackets
Cantilever Brackets
Motorized Brackets
Flat Mounts Brackets
If you're selecting one of the above types you will want to discover each of these numerous models to choose which type is suited for your living situation. For example, if you're living in a flat you undoubtedly require a television floor position with an escalating TV bracket instead of a wall-mounted TV bracket.
Mostly when you're fitting a TV into your room, the owner of the flat didn't permit you to drill holes in the wall, which is mandatory for appropriate mounting of flat panel televisions on the wall.
Swivel mounts brackets are the next style of brackets you have available. In this type of wall mount bracket, you have extra flexibility about your TV. For example, if you have the TV set onto the wall and you want to change the position towards your dining hall for dinner and after that change it back into the first position for after the meal.
The swivel wall mount bracket tends to have a swing arm. This arm permits you to change the position of television towards your desired position according to the requirement and situations. The distance of the arm on the TV bracket will control how faraway you can change the position of the television.
Tilting Mounts Brackets
Another type is tilting mounts brackets are accurately how they are sound. In these brackets, there is an additional segment to the TV bracket, which permits you to tilt the television for a good view. You can go for a rectangular mount bracket or choose the universal mount brackets which work for different types of television sizes all in one TV bracket.
You just have to choose how much you want your TV bracket to tilt according to the requirements. A tilting mount bracket is an outstanding option if you want to mount your television higher than that of your furniture, such as over a fireside mantel. So, you can tilt the television down to make it cooler to watch.
Cantilever Mount Brackets
The next type of mount bracket is cantilever mount brackets are so much different from any other type of mount brackets we have debated earlier. In a cantilever mount bracket, you have an extensive arm that is some what treaded in appearance. In other words, you have one arm that moves, that attaches to a second arm which can move in another way, before the TV bracket.
The cantilever mount brackets are designed that can hold the television beyond from the wall than that of the swivel mount bracket. You can position it in more than one position and encompass it out from the wall by employing both arms in a similar location.
Motorized Mount Brackets
The last type of mount brackets obtainable is the motorized mount brackets. Motorized mount brackets are one of the expensive selections, nevertheless, these are also one of the preferences. By using a motorized mount bracket, you can change the position of the television upward, downward, or side to side according to the requirement and situation.
It can swivel or tilt though you need it to, all without attainment out of your present chair. With these brackets, there is a remote control that helps you by attaining different positions according to your requirements and situations. The above-mentioned motorized mount brackets have come in all sizes you could need for your television needs.
These TV brackets are in sizes ranging from least size to 65-inch brackets for the largest made flat TV screen. One has the choice in what style of mount bracket you select and it is frequently built on how you want the television to be situated.