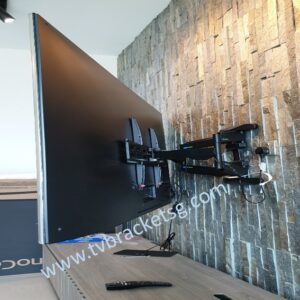 These days, people are beginning to discover a lot of advantages to mount their TV to the wall. With technology, we've moved from the traditional cumbersome display to the flat screens that allow you to save enough space in your room and even create a clean and better look to your home.
There are several questions to get answers to before you mount your display. One of the questions is what should be in place before mounting your display to the wall. You can learn about this; all you have to do is to keep reading.
However, if you are looking for a mounting package that allows for your display flexibility and security, you can reach out to TVBracketSg.com for more information. This is the best place to gain insight into all the tips and information about TV mounting.
Tools You'll Need To Wall-Mount Your TV
Just before you start to mount your TV to the wall, you'll a few items and tools to help you have a successful outing.
Level: to help you avoid crooked positioning of your TV
Stud finder: to give max support since it's not a great idea to mount on bare drywall
Multiple Drill Bits: will help you make holes and drill screws into the wall.
Power Drill: to speed up the process. Superior option over a screwdriver
Painter Tape: to mark off the distance between holes. It's a better tool than a pencil mark.
TV Mount: will help you match the VESA mount standards. You can check out our best TV mounts here.
Partner: you need a friend in case you're mounting a large or heavy-duty TV.
Let's find out how to wall-mount your TV here:
Select the Right Mount
Here at TVBracketSG.com, we have a broad selection of different wall-mounted brackets to fit different TV screen sizes. You should note that not all brackets can be mounted on brick or concrete walls, and only a few include the suitable hardware.
You may have to order other materials from the manufacturing company or local shops to complete the package for some brackets. If you want to avoid glare when viewing your display, a tilting or a full-motion mount is highly recommended for you.
This is because minimized viewing angle adjustments can deflect the glare from the angle you view. Another vital information to take careful note of is that you should not forget to double-check the maximum weight that the selected bracket can hold to ensure you pick the right one for your display.
Manage Your Cable Concealment
One thing that makes a wall-mounted TV so attractive is the clean and uncluttered look. There are several ways to hide your power cables to get this neat look. There are quick and straightforward cover-ups to more complicated in-wall options.
It is recommended and advised to learn about managing your wires before deciding to mount your display. This is because some mount locations are more install-friendly than other locations, and you should find the perfect install-friendly position to achieve a clean and neat look.
Locate the Mounting Position
The choice of walls to mount your TV is another thing to consider before wall-mounting your display. Once your selection is made, you can now double-check the direction of sunlight entering the room during the hours you are likely to use the TV. By all means, you should try to avoid mounting your television on a wall that is usually hit by direct sunlight or glare from light fixtures and windows. Also, bear in mind that mounting your TV on an exterior wall won't be easy to conceal the cables. This is because exterior walls have more bracing and insulation than usual.
Choose your Mount height
We recommend that for a better viewing experience, your television screen's center should be at eye level when seated, say 42-inch. This is because you get the best picture when the screen is viewed head-on, and mounting your TV too high will cause neck strain. Apart from this, if you want to position the TV screen so that the middle of the screen is higher, then you should get a tilting mount.
Try a Mock-Up
Finally, to get a glimpse of how the TV will look on your wall when you are done mounting, you should endeavor to experiment with a mock-up. You can do a mock-up with paper and cardboard, move it around to confirm if it's placed well on the wall.
Final Thoughts
Do you need help choosing a mount? Do you have any questions about the steps you need to take before mounting your television? Our professional advisors understand the brackets and wall-mounting inside and out. You can call, email, or chat with TVBracketSG.com for more information and purchases.