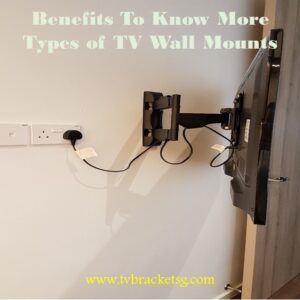 When you are looking to buy a TV wall mount, the first question in your mind is not always the price or the size of the wall mount but the type of wall mount you need. TV wall mounts have become an essential part of our lives, if you don t have a TV wall mount it actually sounds weird and probably a major inconvenience to your life. Most TVs these days are designed to be mounted and that has made life simpler and for those with tiny spaces but who love to watch, TV mount is a necessity.
Enough with the blabbering. What type of TV mount do you need? In this article, you will learn the different types of TV mounts, their advantages, and disadvantages and the best place to buy them. Spoiler alert! The TV bracket in Singapore is the best place to buy your next TV wall mounts.
Types Of TV Wall Mounts
There are different types of TV wall mounts and each has unique features that make them special individually. Below are the types of TV brackets.
The fixed wall bracket.
The movable TV mount.
In these two types of TV wall mounts, there are several under each with their unique feature which you will read shortly.
The fixed wall bracket/tv wall mount does not have any maneuverability. This type of wall mount is common and best suited for those who have no interest in tilting or moving their TV. As the name suggests it's your TV will be fixed on the wall.
Ultra-Thin TV Wall Mount
This is a type of low-profile mount. It gives you the ultimate minimalistic design in your home and also allows your TV to sit incredibly close to the wall. You must have cables hidden inside your wall, if you don't then this type of wall mount is not for you.
The Movable TV Mount
The movable TV mount allows you to move your TV in the direction you feel most comfortable.  With this kind of TV wall mount, you can tilt, swivel or do both when you have it.
With this kind of wall mount, you can move your TV horizontally. If you love multi-tasking this TV mount might be suitable for you. You swivel the TV in our direction while washing dishes or cooking. This way, you don't miss your favorite TV shows. It's adjustable too.
Do you think this is the mount for you but having doubts? Get expert advice from the TV bracket in Singapore. They offer the best services and have experts on standby to help you.
The Tilt Bracket
The tilt bracket allows you to tilt your TV vertically. It's most suitable for people with kids and pets. That way when they watch they don't have to strain.it is adjustable and can give you between 5 and 15 degrees adjustment so you can move to the vertical view you need.it enhances the viewing experience to relax and enjoy.
The Multi-Motion Tv-Mount
It allows the TV to be movable horizontally and vertically. Its cost is a bit higher than the rest but that is acceptable and worth it. With a kind of TV wall mount, you can watch while in any position in the room. It allows you to swivel and tilt your TV and is easily adjustable and this will give you the best viewing experience ever. Its installation process is complicated and you should let an expert install it for you.
Advantages Of The TV Wall Mount
It frees up space in your room and makes it look more organized. Your room will be less cramped and that blank wall will be fully utilized
It's safer for kids and pets to play around if you mount your TV in the wall. There they can't knock it down and cause tragic accidents in the house.
It will enhance your décor and make your house pleasing.
If you have read on other blogs on how to mount your TV wall then you are up to date, but the process may seem easy and you may be tempted to mount it yourself. DONT! It's highly recommended to let an expert do it for you.
The TV wall mount is good for you. If you ever think of buying one, visit the TV bracket in Singapore. They sell various types of wall mount, offer installation services and the best expert advice.