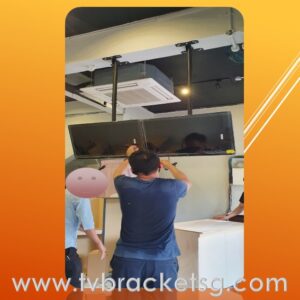 TV brackets are devices that attach to the back of your TV, providing it with a secure place to be mounted on the wall. If you're looking for professional installation services in Singapore, we can help!
Our team of experts has all the knowledge and equipment needed to install your new bracket right away. This blog post will provide you with plenty of information about our team's experience in this field.
Mounting a flat-screen television is today's requirement that will have an impact on your living standard. The right location to install the TV bracket provides a tidy and stylish appearance without taking much space.
Where to Install TV Bracket?
Deciding where to mount your TV will set the tone for its surroundings, so consider which room in your home is best suited before you get started. Consider what's around it and how that might affect viewing quality from different angles.
TV Mounting Over Fireplace
There are many different perspectives about whether or not you should mount your television above the fireplace. Some believe that doing so might be dangerous because of fire hazards, while others see no harm in it at all!
Are you thinking about how to mount your TV on the fireplace? A fixed TV bracket is best for this situation. The fixed TV bracket is best to fix your television tightly in position. You don't need to worry about it falling off the fireplace or being unsafe. The safety and adjustability make it a great choice, allowing you to create space in your room as well.
TV Mounting near Fireplace
With a TV bracket beside the fireplace, you can enjoy watching your favorite shows while still enjoying the warm glow of the fire. The furniture in front of it doesn't have to move. There's no risk that people will trip over cables or cords when they walk.
When mounting a TV on the wall, it's crucial to consider all possible areas where you could put your bracket. Some people don't like to choose the corner when installing a TV bracket on the wall, but it is a safe idea.
Maybe you're one of those who have been overwhelmed by having too many paintings in your living room and can hardly find space for new things like TVs that suits the place.
It is better to maintain an open space for installations purposes while not obstruct valuable views such as paintings or windows.
If you have limited wall space because of other architectural pieces, consider mounting your television in the corner. To effectively do this, a tilting wall bracket is best; do not worry about watching angles for viewers since it allows viewing from all corners of the room.
A dark wall is a perfect suggestion for installing your television. Experience an elegant and entertaining mix of modern style with a Full motion TV bracket in Singapore.
Where to Purchase TV Bracket in Singapore?
Renovating your living room can be overwhelming as there are many designs to choose from different products. Fortunately, we have a range of TV brackets in Singapore and offer installation services.
Whatever design you choose, we have an immense variety of TV brackets. We offer an extensive range of TV brackets and installation services. Check out our affordable prices. We offer all the services you need after purchasing your TV bracket. If you prefer a traditional mounting style, we have table stands available as well!
Where to Get TV Mounting Services in Singapore?
You have a lot of options regarding where you want to place your TV. It's best if the television is near shelves or cabinets, it should be installed high enough on the wall so that wires can stay hidden but low enough for easy access from many viewing angles.
We are professional installers with years of experience. Our selling team will help with selecting and installing brackets that fit well into any home design or décor style preference.
Conclusion
People should use a TV wall mount to save space and give their environment an authentic cinema look. Even though televisions are getting slimmer, each room has more screen real estate without taking up all available floor or desk space on any premise.
To mount your TV, you should get the best TV brackets that match your specifications. Ensure all cables route properly with enough slack before installation begins they need adjusting after being installed.
An expert can efficiently install your television, taking the pressure off of you. Our team will manage everything so that you don't need to worry about the size of your TV and we are available for any questions or queries.