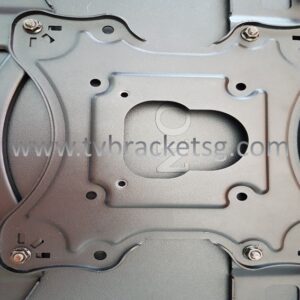 Mounting a TV display is not really as tough as it sounds, but, of course, we have seen many of these TV mount installations go wrong. Mounting is not exactly rocket science, but you still have to raise the TV display onto the wall somehow magically. Now, it does sound like a challenge. But hey! You are not alone. We have summed up major mistakes people make when trying to mount their TV displays all on their own.
So, if you are not handy or a professional on mounting, and you wish to avoid your expensive display crashing down you while mounting, you can simply contact us or and book a mounting service with us. Let our expert help tackle the mounting process for you.
Now, let's move on to some of the common and major mistakes people make when trying to mount their TV display.
Every wall mounting bracket is designed for different devices, sizes, and weight, and you have to be sure that get just the right one that is strong enough or your TV display. To avoid this mistake, you have to also be sure if you want a full-motion bracket or a tilting one. However, if your display is going into a corner, then you need an entirely different type of wall mount for your TV display.
The brackets not completely secured on the wall
Knowing the type of wall you have, what's behind the wall, and where the studs are located is quite important. The negligence of these factors has led to many wall mounting projects to failure.
Knowing where the studs are located will help you know if you can use the studs or not. Sometimes, you just have to support the wall before installing wall brackets to ensure that your mount and TV are safe and secured.
When you use the wrong tools, you might end up drilling holes in the wall that may not be large enough for the cables. In essence, wrong tools can lead to wrong drilling, which will eventually lead to wrong mounting. To ensure your mount and television safety, you should ensure you get the project done right and with the right tool. For safety, ensure you do not cut corners when trying to mount your TV.
When it comes to mounting your TV display, it depends on your preference and your decision on the exact height you want your display. Many people always make mistakes by placing the TV way too high, and watching it becomes inconvenient as you have to strain your neck.
Then, the next solution is to drill new holes and move the TV, which is twice as much more work hanging in the right place. However, we are here to guide; all you have to do is contact us and set a date.
Not using enough cables for future purpose
This is a popular mistake people make when mounting their TV; they forget to plan ahead and add extra cables for future purposes. Let's say you got a new device or a game console; then, you have to start getting new HDMI cables to attach the device or console to your TV. This could be avoided if you simply add more HDMI cables when mounting your TV display.
Using short cable when mounting TV
One other mistake people also make when wall mounting their TV is not to allow the use of enough cable length. If this happens, it can be frustrating to try to connect your TV. Before deciding to mount your TV on the wall, make sure you consider the appliances you'll connect to the TV and the power supply. Do not opt for the cheapest coax extension. Modern TVs do not allow for wire toggling, preventing snowstorm effect. Make sure your cables are long enough to receive quality signal.
Not Engaging Someone to Help During installation
While hiring the services of a professional TV mount installer may be expensive, employing the DIY way allows you to plan within your budget. However, you won't also go wrong if you choose to engage another person to help you out while you're trying to mount your TV to the wall.  Doing it alone will not guarantee you a 100% safety of your gadget.
Conclusion
For a more professional touch to avoid all these mistakes, we offer a whole variety of TV installation services. With us, you get to enjoy your mounted TV display without any necessary labor. We provide you the best quality tv bracket in Singapore.