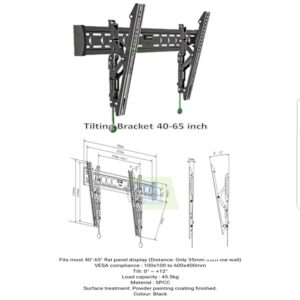 Nowadays, mounting your TV on the wall has become a necessity. Most flat screen types are customized to be on the wall. Fortunately, they come with a guide on how to install them and there are also experts like the TV bracket in Singapore that can do the work for you. Instead of doing all the work yourself, relying on them is much wiser since they are experts and will offer you the best service ever.
TV brackets in Singapore not only install TV mounts but also sell all types of TV mounts and they have professionals to help if you are not sure on what to pick and which mount is suitable for you.
If you are reading this, you probably know little about TV mount and you want to expand your knowledge before buying one. Questions such as what are the types of TV mounts? What size is suitable for me? What are the advantages and disadvantages of having a TV mount? Where can I buy one? Are running on your mind. Don't worry, all this will be addressed here.
Firstly, before you buy any TV wall mount you have to know the various types and choose which is suitable for you.
Types Of TV Wall Mounts
The Fixed Wall Bracket
The fixed wall bracket as the name implies it's fixed on the wall. Once you mount your TV, you can not tilt nor move it at all. It does not work with flat screens with their back protruded.it is also discreet and if you use it, only the TV will be visible and not the TV mount.
The fixed wall bracket is befitting of people who are not interested in moving or tilting their TV.
Ultra-Thin Wall Bracket
It's another form of a fixed wall bracket. It's suitable for minimalists and it permits the TV to sit close to the wall. Your cables must be hidden in the wall to use it hence it's not suitable for people without partition walls.
The Movable Tv Wall Mount
As the name suggests, it allows the TV to move in different directions. There are TV wall mounts that can allow the TV to be tilted, or moved horizontally. Here are types of movable TV wall mount.
The Tilt Bracket
This TV mount allows you to tilt your TV downwards. It's convenient in the bedroom since the TV will be at a higher place and you be at the low bed. It enables you to tilt it downwards so that you can watch with ease and comfort.
Swivel Wall Bracket
This mount allows you to turn your TV horizontally. If you are busy cleaning or cooking and you don't want to miss a show, you can turn it to your directions and enjoy your show as you finish your task.
The Multi-Motion TV Mount
This is one of the best TV mounts. It's flexible and it's suitable to mount a TV in a corner. Since you can use it to mount your TV in a corner, it helps you save a lot of space. With it, you can swivel your TV and also tilt it. You can move your TV in different directions. How amazing is that!
The Size Of The TV Mount
Now choosing the size of your TV mount depends highly on the size and weight of your TV. If you don't know which size is you can ask experts from TV brackets in Singapore for advice? The size of the TV mount you choose is important because if you choose wrongly and the fitting is done, your TV might end up dropping and breaking. This could put your kids or pets in danger. Losing a TV due to poor fitting can be painful. You don't want such inconvenience. It's advisable to ask experts about this.
Advantages Of TV Mounts
Using it makes it safer for your kids and pets to play around. You won't have any fear of them knocking it down by accident and hurting them
It has a visual charm. Your house will be more presentable and pleasing to the eye.
Frees up space. You won't have to worry about cramping your room plus your wall will be fully utilized. Your room will also be more organized.
In conclusion, if you haven't bought a TV mount yet, visit the TV bracket in Singapore and check out their services. You can buy, ask expert advice and get high-quality service.