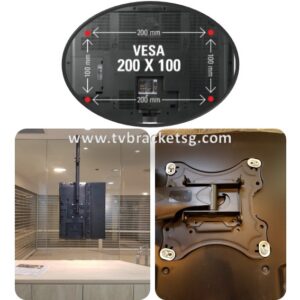 After acquiring a new television, another task you might need to get clarity on is how to hang it on the wall. This is important especially if you don't want to stand your television on a table.
While mounting is stress-free, you can get hooked up if you don't choose the Vesa. If you can find out what the holes at the back of your TV stand for and how exactly to place them to produce the magic you want it to give you as a result.
You're encouraged to calculate the VESA- which stands for Video Electronics Standard Association. It refers to a basic standard used for all mountings for various flat screen tv products and brands. You can take measurement from left to right.
You can define it as the distance in millimeters that is in between the four mounting holes behind the TV – measured as distance horizontally and distance vertically. This standard is applied to TV mounts and wall mounting systems.
Mostly the size applied is the 200 * 200 for TVs of 32 inches, VESA size 400 * 400 for TVs of 60 inches, and VESA size of 600 * 400 for larger screens of 70- 84 inches.
How Easy can I Locate my Tv VESA Size?
You don't need to worry so much about how to discover your TV's VESA size. You can find it by either going through your electronic manual on the TV specifications or better still just locate it by measuring it on the wall.
First, try and locate the holes at the back of your television, then proceed by measuring the distance between the holes horizontally. Do the same by measuring the distance between the holes vertically. With these details, you automatically know the VESA size of your TV.
Finding the Wall Bracket for my TV
If you are wondering if you can discover the wall bracket for your television, then this is the right place for you. For buyers in Singapore, tvbracketsg.com offers different TV Bracket sizes well suiting for your tv brand and your home.
Available sizes are:
VESA 75 * 75
VESA 100 * 100
VESA 200 * 100
VESA 200 * 200
VESA 300 * 200
VESA 300 * 300
VESA 400 * 200
VESA 400 * 300
VESA 400 * 400
VESA 600 * 400
VESA 800 * 600
Final Thoughts
VESA is a standard for every television and mountable device. Whether the TV is mounted by fixed, tilted, or swiveled mounts, you should refer to the VESA specs. They all level up to the same VESA size which is the horizontal distance multiplied by the vertical distance.
Tvbracketsg.com provides you with the best tv bracket in Singapore that are compatible with the VESA interface standard ensuring it fits properly with your television and mounts perfectly on your surface. For all your Tv brackets in Singapore, pricing is not a problem as the company offers some of the competitive prices you can find in the market.