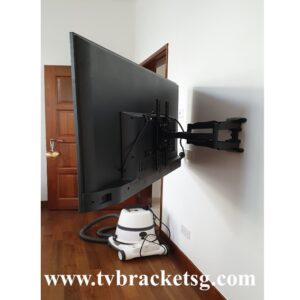 Buying a TV bracket can be a challenging task. This blog offers the ultimate guide to select the right TV bracket size for your television. Check the product description to choose the best TV bracket.
Follow our straightforward guide to buy the most suitable TV bracket size. Surely you will notice that it is not difficult to get the best bracket size for your flat-screen LCD or plasma TVs.
Follow VESA standards to select the right TV bracket
The Video Electronics Standards Association (VESA) designed a regular format for all TV brackets that fit almost all television. These guidelines match flat-screen LCD to allow wall installation by checking the patterns of holes on the backside of the television.
Find VESA dimension by measuring the distance between the horizontal and vertical holes or check your television specifications. Some television companies don't support VESA standards. Get a universal mounting bracket for non-VESA televisions.
Remember, the bigger television screen are heavier and need more support. Analyze your television load to the weight capacity of the TV bracket for durability.
TVBracketSG.com offers a diverse variety of TV brackets in Singapore. You can get one that will provide the best viewing angle and suitable for your available space.
Models of TV Bracket
Different types of wall mounts can turn out or swivel away from the wall. Before buying a TV wall bracket, you should consider the size and available space for installing it. Three main types of TV brackets are available in the market that you can choose depending on your needs.
It is affordable and the right choice for installing small-size LCDs in the central position. Such brackets keep the television in fixed positions.
It is easily tilted up or down to reduce sunlight for a perfect viewing experience entertainment. Tilting brackets are ideal for enjoying television in the bedroom.
Full motion TV bracket provides freedom of rotating the television in all directions to enjoy watching at any desired angle. It allows you to swivel your television up to 180° horizontally and up to 20° vertically. It lets you move the back of your television to turn out cables.
What are the Benefits of TV Brackets?
TVs are installed on the wall to save space and for comfortable watching from all angles. It makes your entertainment area streamlined and stylish look. It is very beneficial for small rooms.
Investing time and effort to install your television on a wall is an obvious way to improve its appearance and safety. TV mounting keeps your kids and pets away from your television and protects them from harm.
For more entertainment, you need to ensure that your television must be visible from various angles. A full-motion TV bracket gives you the choice and versatility to rotate your television to overcoming glare for the best viewing experience.
Buy TV brackets in Singapore
TVBracketSG.com is a premier supplier of TV brackets in Singapore that ensure reliable products. We supply a broad range of VESA-compatible TV brackets in Singapore to accommodate your requirements. You can buy a TV bracket that fits your demand and room style.
Our support team will recommend you the best TV bracket for your need with installation services. After selecting your favorite TV bracket, you can book our TV installation service for professionals at your door, whenever you prefer.
TV wall mounting reduces glare to provide the best viewing experience and presents your living room more stylish. Installing a television sometimes become tricky, so it's good to get the services of an expert to avoid stress. You can check out our wide range of TV brackets here.
No matter which TV bracket you buy, we can take care of your television installing demands to execute things more convenient for you. Our expert will install your television and hide unsightly cables perfectly. Contact us to book our expert, select the services and time.
Our experts come to your door on the very same day. TV brackets are available at different costs. It varies from $20 to several hundred dollars. Make sure to buy one that supports your television size and weight to satisfy your requirements.
Remember, if you are not sure about installing the TV yourself, you should leave it to our experts.
Enjoy seeing your perfectly installed television!