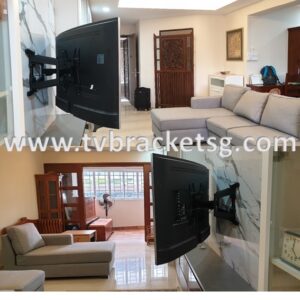 If you are reading this blog post and are unsure how and where you want to put or mount your Tv, you have found what you need. This article will allow you to realize that mounting your new Tv on a wall with the best Tv bracket in Singapore is the way to go!
Must You Put Your Tv On A Stand/ Wall Mount or Ceiling Mount?
That's the options you have where to put your newly bought Tv.
The first option I will rule out is the stand option because of various reasons. Tv's on stands are dangerous, and you are wasting a lot of valuable space. Disadvantages of a Tv on a stand are discussed later in the article.
Ceiling mounts are too expensive and impractical in other circumstances. I think we can rule that out and stay with the best and safest wall mount.
But when deciding where you want to put or install your Tv, you might need help from experts!
Everybody doesn't know everything, and some people are specializing in various jobs. Therefore my advice is to seek specialized help from the beginning.
For the best Tv bracket installation in Singapore, I want to introduce you to people you can rely on, and that is TVBracketSG.com.
Before we go any further, I think we must understand the advantages of working with TVBracketSG.com:
They will help you every step of the way, from selecting the best place to install your Tv up to the Tv's final professional installation.
Their Installation Technicians are professionally trained with over five years of experience.
They give excellent after-sales service and even service before your installation. Contact them right now on this number!
But the best test is to read what their clients have to say at the bottom of their Home page!
Their first priority is you, the client, and how they can satisfy your needs.
Now you have the help of a company specializing in the supply and installation of the best Tv bracket in Singapore. You still have to understand why they do certain things in a certain way.
So let's go through the advantages of a wall-mounted Tv.
Mounting your Tv on a wall is a general procedure nowadays. That is because of certain advantages it has, and we will have a look at that in the rest of this article.
It Is The Safest Solution
Accidents happen when we expect them the least. A child or animal might run and bump into a Tv on a stand and injure themselves or damage the Tv.
Even when you are moving stuff in and out of the house, this might happen to you or somebody helping you.
You Save Space
No stand for your Tv if it's mounted against a wall safe a lot of space. This is of more importance when you live in a small apartment.
You can keep your old Tv cabinet. Now you will have more space on top of it to put stuff or equipment on.
Flexibility in Selecting The Desired Height For The Tv Screen
If your Tv is not at the right height, it will create a strain on your eyes and neck. The Technicians at TVBracketSG.com will install it at a height that will ensure that your body relaxes while all possibilities of glare will be eliminated.
A more excellent Looking Room.
Mounting your lovely NewTV will look like a giant portrait on your wall.
A Great View From Anywhere In The Room.
If you use a full-motion Tv mount, you will be able to watch Tv from your table as well as from your couch. You need to adjust the angle to have a perfect view from both.
No More Annoying Glares.
It doesn't matter from where the sun or a light at night is shining. You will never have an annoying glare from your screen because the Technicians of TVBracketSG.com will take care to eliminate it.
Conclusion
So to enjoy hours of entertainment and relaxation in front of your new Tv, call or SMS TVBracketSG.com right now.
Their Professional Technicians and staff will help you right from the start. To ensure that your Tv is installed with the right Tv bracket in Singapore, at the right place, and in the right way.