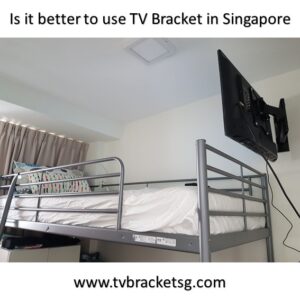 The traditional televisions that we used to see in the old days are gone, modern televisions are now being mounted in the walls. Modernization brings every appliance in the household to change and what people need to do is to adapt those changes. TV stands and racks are now taken over by the innovation of TV brackets, so the televisions are easy to install in different places such as schools, rooms, and in any corner of the house.
Changes in TV installations are now needed, wall mountings requires a tool they call brackets. Brackets have the ability to hold such expensive televisions need for a better attraction and a better way of viewing. They are considered as the solution in designing advanced model of some newly modeled TV set-ups.
Choose the Right TV bracket
Many TV brackets in Singapore are now available in almost every market or in hardware stores that are equipped with many different unique features and services. There are many brackets that possess high durability features because of the type of steel they are constructed. There are various types of brackets with different hole design patterns on the back to hold the TV in place. The following are some of the most commonly used brackets available in the market or hardware stores.
First in the list is the fixed bracket. Simple but reliable, it known to be the toughest and strongest design of TV brackets available in the market nowadays. They are easy to use and very simple because they provide and maintain no screen movement at all. These brackets are considered to be one of the most used brackets in the industry, as it can be placed in any type of wall. It is also the most budget friendly bracket type that doesn't need any high amount of money in a single purchase. As it gains its fame in the market, it is known to be simple but reliable and a budget friendly tool in almost every TV sets found.
Known for being the upgraded and the higher version of the fixed bracket. This type of bracket will give you at least 5 to 15 degrees vertical adjustments used to balance your TV design, also to change the vertical angle of the installed TV. It gives a better view for the TV allowing a better viewing experience for everybody. Adjustments are quite easy, loosen its screw and then it is movable for the available angle you desired for a better quality of viewing. When you have chosen your desired angle and steepness you can tighten back the crew for it to be locked and placed firmly so that it won't move again and again due to vibrations. It is quite a little pricy rather than the fixed bracket but it is worth trying from its additional feature.
Full motion brackets are the priciest one. It offers the widest viewing angle rather than any type of bracket. Usually the manufacturers give an extra extending arm for its additional feature for support. As expected full motion brackets on the upper class against the other types but still it needs a higher cost and much technical to install because of the added features of extra arms. However, even its pricy it will give a better outcome for the viewers as it can turn and extend in its mounting place. Luxury as they are in, but the demands of this type of brackets are high due to its supported TV brands. Some full motion brackets are series with brands so they can't imitate the original ones. Full motion brackets gained its popularity as the new technology arises and its functional side from televisions but also to computer monitors as well.
TV Stand
Last option of them all, it only allows the TV to be placed on the table top. Just like the older versions, it does not require additional efforts in installing and hassle while mounting your TV. This stand is not a child friendly because it can get outbalanced when the table moves. Its only applicable in rooms for adults and far from children below five years old.
Default type of TV sets only have stands so they are only be placed on the table top. Issues regarding with the danger it can bring when the TV falls needs to be answered, then these brackets arrive. As simple as they can be seen but they can give a lot of use when properly installed. They are considered as the modern TV tapes that hold the TV on the wall and prevent it from falling.