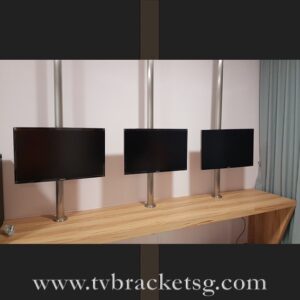 With the increasing popularity of smart TVs, many people need to buy TV brackets in Singapore to mount their TV on the wall. The following blog post will provide you with information to choose different types of brackets and help you determine which one is best for your needs. It also includes some installation guide so that you can quickly get back to watching all those episodes of Friends!
This blog post will help you answer that question by giving you some basic knowledge about the various types of brackets available and how they differ from each other.
People often place their TVs on furniture to hold them. It is a dangerous practice and can damage the TV and whatever it's sitting on, not to mention compromising safety in your home.
What type of TV Bracket should you use?
Before choosing a TV bracket, it is crucial to decide what type of device you will be using. You can choose between three different types of mounts to fit your needs. TV Bracket in Singapore specializes in offering a variety of brackets that people can choose from our products.
While different people have different needs to mounting their TVs, there are several options from TV Bracket. These include old-fashioned completely stationary walls to more modern Tilting Wall Mounts and Full Range Motion Wall Mounts. Each type has its advantages depending on what kind of movements one wants but is sure not to compromise the overall security and stability features.
The TV bracket keeps the TV close to its wall, only allowing a 2-inch distance from one another. The still range is best for small living areas or bedrooms because it does not give you any freedom of movement.
The tilting TV bracket allows you to adjust the angle of your television, counter light glare and improve color contrasts whether seated or standing.
Tilting TV brackets allow for an adjustable viewing experience without sacrificing appearance. However, they stay flush against a wall as much as possible while making it easy to tilt upwards and downwards to create optimal experiences based on where one is sitting or what wants to see more clearly.
A full range motion allows you to adjust your TV up to 16 inches from the wall of wherever it's mounted. It swivels 180 degrees in either direction or 15 degrees on an axis that will rotate upward as well if needed, so there is no glare due to light hitting it directly. Depending on your mount type, some allow you to change the height by 3 inches if necessary.
The full-range motion mount is the perfect choice for large rooms and those with multiple sitting spaces. People who want to entertain guests in their living area will love the full-range motion mount because it provides more flexibility and adaptability.
Benefits of Professional TV Mounting Services
When mounting a TV, it is crucial to seek the help of professionals as you can risk damaging your television. To ensure that things go smoothly and without any problems, always employ experts who have years of experience in this field.
Our team of professional TV Brackets in Singapore will guide you in selecting the best mount. It depends on your budget, size, and weight from a wide range of TV brackets available for sale today.
If you want to get the best view for watching TV, mount it on your wall. You do not have to strain yourself by having a television either too low or too high.
With the perfect TV mount, you can move your screen to face wherever you're working. It all depends on what type of bracket, for example, a tilting TV bracket or full range motion bracket.
Wall-mounted TVs are the best option for people who have homes with pets and children. You do not need to worry about your TV screen falling off because you will be able to fix it. Wall mounting offers steady, reliable solutions that make viewing easy as well!
Wall-mounted TVs are a great way to save space in homes. They also provide steady and reliable support without worrying about the TV screen falling off for houses with children or pets. Most people living in rented apartments can benefit from getting their TV mounted. It saves floor space that allows more creativity room.
Conclusion
If you have a hard time mounting your TV, we offer the best solutions for mounting. With years of experience, we offer a wide variety of mounts to purchase from us! Get in touch with our team today if you'd like more information or help to get your flat screen mounted perfectly at home.