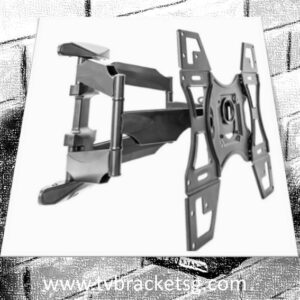 Flat-screen LCDs are becoming modern, attractive and, more popular. If you have limited space in your home, you should take advantage of the TV bracket to install a television. Installing a TV is a great idea to make space in your room. It presents visual charm and home decor. It can be installed anywhere from a central to a corner wall or above a fireplace.
TV brackets are compatible with all types of walls and delivered with the basic tools you require to install. TV mounting on a plaster or masonry surface requires more sturdy tools. If you are worried about installing your television or choosing the right TV bracket, our expert can guide you to do the right job.
If you are doubtful about choosing a compatible TV bracket for your television, you need to check the following information.
Check the VESA Size 
All flat-screen LCDs can install on the wall through the TV bracket. On the backside of the television, four pre-drilled holes are present in a square form to attach the TV bracket.
The Video Electronics Standards Association has released a set of standards that TV manufacturers approved to compare the area of the pre-drilled holes. The VESA size can find on the backside of the television by measuring the holes. You can also find this information on your TV user manual.
Check your wall Condition
Brick and stud walls are two different types of walls. Nearly all walls can support your television, but be careful with stud walls.
Brick walls
You can install any size of television on a brick wall because it provides a secure installation. For installing heavy televisions, use sturdy wall anchors specially designed for the brick wall to hold bulky objects.
Stud walls
Usually, hall walls formed of a wooden stud fixed to plasterboard. The wooden studs install a small size TV, but if you're planning to mount your TV directly, you'll need to use special plasterboard. Make sure the maximum weight capacity of the TV bracket must be compatible with your television. The plasterboard installs small size TV on stud walls with metal frames.
The Weight, Size, and Flexibility
When buying a TV bracket, consider the screen size of your television and review the product specification to get more information on the maximum weight capacity that it can support. You can get this information in the product box.
Some big-size televisions are heavy to install to drywall, fix it to studs or plasterboard walls. You'll need to consider many factors for installing a TV bracket, so paying a professional for peace of mind.
The flexibility you want to install your TV is an essential factor. If you need to see your television from adjacent rooms, rotating wall mounting is the best option for this purpose. You can change the direction of your television is to optimize the screen picture.
Mounting television at the perfect height takes less space. A fixed mount is simple to install and presents a charming appearance. The full-motion TV bracket is flexible to adjust the desired height and angle by tilting the television.
Contact us to buy a TV bracket for your big-screen television and book our services to install it.
Decide Where to Install Television
One of the crucial factors is to find the right place to install the television. You can use different positions in your room to get an impression of how the TV will operate after installing. Decide the sitting place in your room for watching television. Install your TV at a proper height to get perfect eye level.
If you buy a new TV but do not have the tools, skills, experience of installing your TV, use our installation services. Our experts have more than ten years of experience with installing televisions. It can be dangerous to try this yourself and make mistakes, so leave this task for us!
Buy TV Bracket in Singapore
You can buy TV brackets in Singapore at a reasonable price. We have a wide range of stylish TV brackets of different sizes. If you want to buy a TV bracket in Singapore at a reduced price, check here to buy on TVBracketSG.com.
When you decide to buy a TV bracket, consider the style you need and the weight that it can support. If you require help to install your television, check out to order our services. Once you have installed the TV bracket, sit back and relax to enjoy your desired sports and programs.