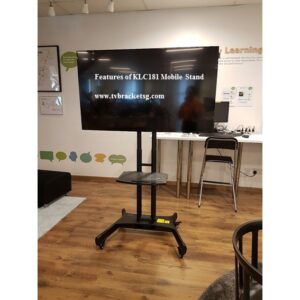 Televisions can either be mounted on the wall or be made to stand on a mobile stand. Many tenants and homeowners choose their preferred option. But the more appealing method is using a mobile stand. In opting for this method, TVs should stand on a very sturdy, solid, and strong mobile stand. The best tv bracket in Singapore comes in handy, thanks to tvbracketsg.com, the company that offers some of the best mobile stands on the market.
In this article, our attention will shift to KLC181, one of the top tv mobile stands from the supplier of the best TV brackets in Singapore. Buyers make this product their top priority when choosing their TV mobile stand for several reasons.
Great Dimension
The 200.4 lbs weight is also ideal to withstand heavy-duty TVs. When it comes to the VESA distance, the KC181 mobile stand measures 100x100mm to 800x500mm. The product's TV height adjustment stands at 1350mm – 1650mm with an incredible base size of 1000mm x 680mm.
TV Compatibility 
You won't have difficulty in making your decision when it comes to buying the KC181 mobile stand. It comes with a wide range of sizes (55-inch – 80-inch) that is compatible with 55", 65", and 70" TVs. Although it doesn't feature any tilt swivel, you won't regret having this guy in your room.
Useful Extra Essentials 
Those who love the best tv bracket in Singapore opts for an excellently shiny black KLC181 mobile stand because it features a DVD shelf where you can store your DVD and compact disc players.
Durable Construction
Every buyer or user of TV mobile stands knows that products made from SPCC are top-notch. The KLC181 is no exception. It comes with an amazing design made from commercial quality cold rolled steel, known for its solidity and durability.  The material is coated with a great finish that makes it resistant to the elements. Besides, this feature makes this product an all-season mobile stand.
Anti-theft Wheel Lock
Another feature that the KLC181 boasts is the incredible security system. The steering wheel lock protects your mobile stand and TV from theft. With the theft-deterrent wheel lock, you can be sure that your KLC181 is secure and immobilized against unauthorized persons.
Highlighted features
Inside pole cable
SPCC coated finish
TV Height adjustment 1350mm – 1650mm
TV Compatibility: 55-80-inch TV
Base Size: 1000mm x 680mm
Stand Dimension: 100x100mm to 800x500mm
Final Thoughts
Supplying the best TV brackets in Singapore is the core objective of tvbracketsg.com. With no tilt swivel, this mobile stand looks perfectly great. You won't have issues buying this product. It boasts perfect user feedback. It doesn't damage easily or give way after a few months.
Guess what? It is incredibly affordable. You won't have to break the bank before you have the KLC181 in your house. Tvbracketsg.com is the right place to go if you need the best TV bracket in Singapore. They offer OEM TV brackets with great after-sale services and installation.