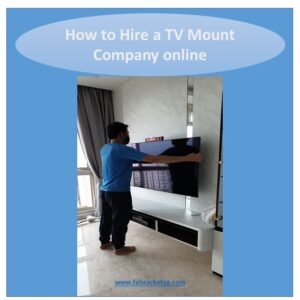 Meta description
TV mounting has become one of the most commonly practiced method of TV display. This task may require an experienced hand to do it safely and effectively. Many  online companies have come up with the service including the TV Bracket in Singapore. Join me as we explorer what hiring a TV Mount company may involve.
What is TV Mounting?
This is a method used to display TV in our homes, places of work and social places. Displaying your TV through mounting may not be as simple as it may look. It involves attaching your TV on wall directly. It needs an expert. TV Brackets in Singapore, with over six years business experience offer their professional technicians for an expert touch.
Features of a good TV Mount company for hire online
There are many companies offering TV Mount services but you need to settle for a company that meets your needs. There are several factors to consider and they include;
Hire a company you can afford. At the end of it, you will pay for the service. Ensure you know the price and any hidden charges involved and you can afford it.
The reviews should tell you about customer experience after interacting with them. Take time to read the third-party reviews from real customers who have worked with the company in the past.
Longevity/ duration in the market. As much as we need to support upcoming companies, it is safer to deal with a company that has been there is the market for sometimes and is known. Maybe consider their physical location and truth of existence to avoid dealing with quacks and robbers. Remember they have access to your home and maybe family. TV Brackets in Singapore is your best choice in this.
Authorization to operate. The certification by the board that licenses the services and the local government licenses. The staff should wear the badge of the company or show proof of it. Verify the workers sent to your home before you give them access.
Proof of insurance. The company should provide a fully signed document showing that they will cater for any damage that they may cause, before installation. This is very important as these devices come with a high price tag.
Availability of installation materials. It is always convenient if the company would have the accessories used to mount the TV. It may be cheaper in terms of time and minimizes the risk of buying items that don't fit the asset. The technician provide the right items and the services and you are charged together.
What To Consider Before Hiring A TV Mount Company Online
So you need to hire a profession to install your TV, can you afford the extra cost? Availability of finances to cater for the cost will determine if this is what you should do or choose another method of TV display.
Do you have the right item? Mounting TV comes with a pre-evaluation. This may include the strength of your wall, the condition of the position intended, the landlord authorization, and the right assets. You have to tick all the boxes before calling in experts. Remember, even if they come and don't manage to install the TV, you may be charged for the trip, hence giving money for no service.
Is it necessary? You may want to make it modern but is the extra spending necessary? If other cheaper methods of TV Display can work, consider them.
Is there a cheaper alternative? Do not mount your TV at a house you are not going to stay for a considerable time. It is expensive and not necessary. Uninstallation may cause wear and tears that could have been avoided if placing it on a table was considered.
Availability of the technicians. Some places are so interior and remote for a technician to reach. Elsewhere, this is yet not a commonly used method of TV display and therefore, no company is available in the region. You can learn how to do it yourself or consider paying more to have the technician come in. Alternatively, choose what is available in the region you are in.
Reasons For Hiring A TV Mount Company
To ensure you do it right from the start. It is important to ensure you have the asset mounted properly. If you don't, it may slide and fall causing damages to people in the family and loss. You may also need some readjustments if you have factors like height and light reflections wrongly considered. This is an extra cost of time and money.
To ensure your asset is safe. Some TV are very expensive. Though it may seem a simple thing, it is expensive to replace and maybe get the same asset again. You are at peace and you enjoy your watching comfortably if you know that you trusted your work to professionals.
For the comfort of the mind. You can learn the basics of how to install the TV on your own. However, not everyone has time or the ability to grasp the terms used and do it well. It is better to let the work be handled by the experts. TV Brackets in Singapore have skilled technicians and over six years of experience in the market with the best customer's experience. They are your best choice.
To enjoy the discount. Some companies offer the service at a discounted price. Lather that gong through the trouble of learning how to do it yourself, you can pay a little cash for an expert job while you relax and watch.
Expert recommendations. Mounting your TV will involve more than having the TV on wall somewhere. An expert will help you purchase the best installation materials, best TV to install, best positioning, and the whole experience can be good, fast and cheap.
Conclusion
We want you to hire the best TV Mount installer the first time. Hire a company that fits your needs and that you would want to recommend too.  I believe you can get all that at TV Brackets in Singapore. All the best and enjoy your new TV.