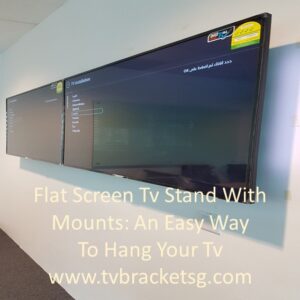 Mounting your TV is not a daily chore that everyone can do, in-fact 90% percent of people do not have an idea on how to mount their TVs. Maybe you just got a new TV or your already have one but want to change the aesthetics of your room and you don't have an idea of how to go about it. This article will comprehensively guide you on how to go about it.
But before you get started, there are a few equipment's you need. Getting them should not be a problem. With a reputable company like TV Bracket in Singapore, quality is an assurance and you are sure of getting the best equipment available
Tools and Equipment's, You'll Need to Mount Your TV
TV Brackets
There are a lot of TV brackets that you can use like Fixed Mounts and Tilted Mounts it all matters on your preferences and viewing behavior. TV Brackets in Singapore keeps in mind these considerations when suggesting the best option for you.
Power Drill
You'll need to drill some holes in the wall and to put your mounting screws and using a hammer will take a while. So, a power drill is highly recommended to speed up the project.
Drill Bits
These are used to make pilot holes in the wall and to drive your mounting screws into them. There are various types of drill bits each with its own work.
Angle and Elevation
Your viewing angles and the elevation of the TV to your eyes are very important as they are essential to gaining the best viewing quality, and moving the TV after you have mounted it is not only extra work but makes your room an eyesore with the useless holes that will be left behind. So, you should consider the location carefully before mounting.
Pencils or Painters Tape
You will need these for marking drilling points on the wall.
NB: You also need to account for cable management because you do not want cables lying around and tripping someone which will cause injuries and also you do not want it ruining the beauty of your entertainment section.
Easy Way To Hang Your Tv
Now you have gotten all the equipment's needed for mounting your TV. Now comes the part where you need to actually hang your TV to start enjoying the viewing experience. Follow these easy steps to have a hassle-free mounting.
Pick A Position Where You Want To Put The TV
Viewing angles are very important for achieving the best out of your viewing experience, so you need to consider the best position carefully, because you do not want to be moving your TV around all the time added to the fact that you keep leaving useless holes which spoil the beauty of your sitting room. If you have a fireplace, then that will be the best spot to mount your TV because it is the focal point of the room.
Mark And Drill Your Pilot Holes
After finding your ideal position, you need to drill these tiny holes as they will make sure your mounting screws enter the wall. These are the processes
Put the mount on the wall and use a level to make sure it is straight.
Use your pencil or painters' tape to mark where you will drill the holes
Attach a bit to the drill which is the masonry bit and drill the marked areas on the wall.
Attach Your Mounting Bracket To The Wall
Attach your mount to the wall by drilling the screws to the pilot holes made for it.
Attach The Mounting Plate To Your TV
Find the plate holes on the TV by lying the TV on its screen with a towel or soft cloth under it to prevent it from breaking. Remove any screws from them if there are any and then attach the plate to the TV.
Mount Your TV To The Wall
Firstly, connect all the necessary cables and hardware to your TV before mounting it, then lift it carefully to avoid injuries, then align the mounting plate on the TV with bracket on the wall and connect your TV to a power source and then you enjoy your newly mounted TV!
Conclusion
You may be wondering where the best place to get TV brackets in Singapore is or you need professional hands to help you with the installation of your TV. Well worry no more because TV Bracket in Singapore is here to serve you needs. With over six years of experience, we assure you of the best service in installing your TV. We take responsibility for any issues that arise during our work, and we offer skilled guidance on the best equipment's to use. Reach out to us today.