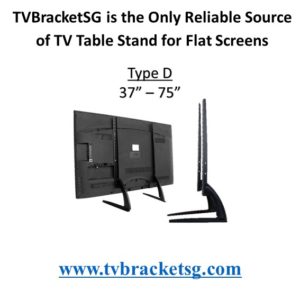 It is no more news that you can get TV table stand for flat screens in different woodwork styles, shapes and capacities. It is also noteworthy that your choice of television table stand Singapore will depend on some other factors such as the usability, wood quality, volume, and price. As you need to go for the right stand for your flat screen TV, you also confirm if it really worth the price for its durability and he supplier. Another vital criteria on the list is the wiring holes needed to install and plug the stand.
If you a Singapore residence looking for a quality TV table stand for flat screens to complement your home décor, TVBracketSG is the only available provider. They are the best supplier of quality and affordable TV table stands in Singapore.
Having a huge product line-up in Singapore, the company is popular for different sizes and styles of extraordinary television table stands in Singapore and its metropolis. While their products are not the cheapest, the products are reasonably priced and easy to the pockets of customers. Sturdy flat surfaces, DVD storage spaces and equipment space below the TV stands make each of the TVBracketSG stands desirable.
The storage spaces in a lot of flat screen table stands for TV open to double volume. The storage spaces have DVD racks on the inner sides of the cabinet doors in such models. Hence, the TV table stand is capable of holding just exactly twofold the number of DVDs, unlike TV stands of the same type and size. More importantly, you can get it for less.
The three-tier corner table TV stand can be a smart and clever purchase for TVs in room-corners. It is very cheap and one of the sleekest TV tables on the market today. However, you can decide to invest more if you need a TV stand for bigger TVs like the 60-inch plasma screen types. These are also available at TVBracketSG. In fact, there is no size and design of table TV stand you will not get from this company. You will not be disappointed about the quality also.
TV Table Stand Wood Quality
This remains an imperative consideration when shopping for a television table stand in Singapore. Note that the most expensive types are normally heavy, difficult to put together and have the same space capacities as the cheaper ones. But more expensive television tables for flat screens normally come with sturdier wooden panels, allowing TVs bigger than the rated screen sizes to be positioned firmly.
Find out more about TV table stands for flat screens at https://www.tvbracketsg.com/tv-table-stand/ or Call / SMS / Whatsapp : +65 9183 7250. You can also send an email to: enquiry.tvbracketsg@gmail.com