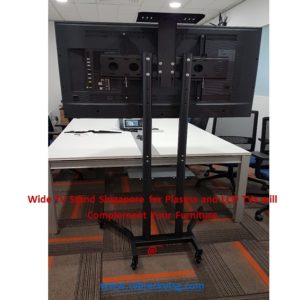 Accessorising your home with the latest devices and electronic items will add the general look of your rooms and complement your home. LCD and plasma televisions are excellent accessories to beautify your household. Your television needs complementing elegant and portable TV stand Singapore that can hold your expensive television set safely.
TV stand exclusively made for LCD and plasma TVs should be strong and wide to keep it away from unnecessary damage to your television set. Moreover, these stands are a great way to complement your home entertainment arrangement. If you want to buy new TV stand in Singapore, you will get many options from TVBracketSG.
Vital Considerations for Buying Wide TV Stands in Singapore
Before you make a decision to buy a wide TV stand Singapore, there are a number of vital points you must consider.
Plasma and LCD Televisions
Nearly all the available LCD and Plasma TVs necessitate wide TV stands in Singapore which you can get in different sizes. As a result, make sure you opr for the one that best meets your requirements.
To choose the perfect stand, consider the available space you have to accommodate the stand. Take the measurement of the area where you want to place the stand to help you have an idea of how wide the TV stand should be. This will prevent you from buying over or under size LCD or Plasma stands.
The Size of Your LCD or Plasma Television
Stands for TV Singapore are made based on particular sizes. Hence, keep the standard size of the television screen in mind when shopping for a stand for your TV. This is important because you surely don't want to invest on a wide TV stand in Singapore, based on the measurement of the area of your room.
Consider the type of wide TV stand you need as soon as you know the size of the available space and that of your television screen. Flat surface stands where you can easily mount your Plasma or LCD are available. On the other hand, there are stands that feature additional shelves underneath their surfaces, in case you want to store some items like your tape collections, cable boxes, DVD player, and home theatre system among others.
Materials and Colours
Despite the fact that wide TV stands are available in different materials, glass stands and metal stands are generally number one choice. If you them to complement the interiors of your room, you can buy the wood type of stands. If you are considering colour, black TV stands Singapore are more appropriate for LCD and Plasma screens.
If you need professional advice on the type of TV stand Singapore you need for your LCD or Plasma television set, turn to TVBracketSG Company in Singapore. We are the best suppliers of TV brackets and wall mounts in Singapore. Our products are of high quality, durable, and affordable. In addition, our service is second to none. With our more than 5 years experience in the industry, you will get value for your hard-earned cash with our products and services.
What are you still waiting for? Check out at https://www.tvbracketsg.com/product-and-services to learn more about our services or contact us at https://www.tvbracketsg.com/contact-us/ for more information and enquiry.