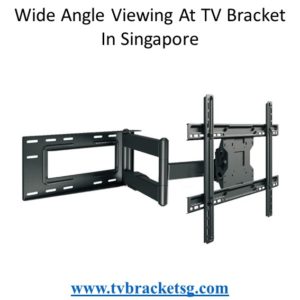 Entertainment has never gotten better. The vast variety of widescreen TVs has just revolutionized how we watch televisions. Either at home or in your office, you need to get updated on what is happening around you all the time. Imagine having a TV which has a wide viewing angle from your favorite corner seat. You will find that a TV positioned in the right place will motivate you to watch a lot more.
Manual booklets are always provided when you buy your TV mount. There are also DIY videos online that take you through step by step on how to install them. They are good videos and very informative. But there is a big reason why many people are acquiring the services of TV Bracket in Singapore. They are licensed and have the proper skills to install your TV stand in a manner you will appreciate and enjoy.
We at TV Bracket in Singapore, are in the business of selling and installing TV Brackets, TV Mounts and TV Stands. We make sure you get the best entertainment on your TV. Towards this reason, TV Bracket in Singapore is dedicated to providing exactly that. We have the right personnel who have the know-how of providing and installing the best TV Brackets with wide-angle viewing.
Tips To Consider
After purchasing that widescreen TV, most of us always have a pre-determined place to place it. Nevertheless, we don't as much think of how better to maximize our spaces or even how best to enjoy watching that TV. We are limited to our imaginations on how best and which is the position to enjoy watching our televisions from. TV Bracket in Singapore has some tips on how to get the best experience and why we should get professional help. There are several things you need to consider for your wide-angle TV viewing. They may seem very easy, but in fact, they will go a long way to ensure you get the best experience.
TV Design
TV brackets vary when it comes to TV designs. This is because they all do not have the same measurements and specifications. The design will also determine the weight and type of bracket your TV needs. If you are not sure, its recommended to ask for a bit of advice from professionals such as TV Bracket in Singapore. Subsequently, their years of experience may be of benefit to you in many ways.
Position Of Your TV
How far and high your television is from you matters a lot. I mean, who wants to have neck pain or even impaired vision. Professionals at TV Bracket in Singapore have been trained to do a good job. By that I mean they shall consider the height and distance of the TV keeping in mind that your comfortability and visibility are paramount to you.
You may be confused by the vast array of TV mounts you may want for your TV. This is because they all have different designs and advantages the other doesn't. Consider this, a fixed TV mount and a motion TV mount. Which one would bring the most desired effect and compliments your house space? I leave that to the professionals at TV Bracket in Singapore.
Space
Professionals at TV Bracket in Singapore are more experienced in minimizing and maximizing of space. This means that they will only use minimum space when installing. They also give you advice on the space needed to get the maximum viewing angle.
TV Accessories
Obviously any good TV must have its accessories. You need to think about where to put them and how they will stay alongside the compartment. A floating shelf may a good option.
Conclusion
A good view of your television can be something to look forward to every day. The content of knowing that you will get to enjoy a premiering movie or series episode is a good thing to look forward to. At the end of each day, you get home tired and exhausted. All you need is a good rest and certainly some entertainment to take the edge off. And TV Bracket in Singapore has got you covered. Their top of the range TV stands, TV Brackets and TV Mounts offer the best wide-angle for viewing. In addition, you get to experience the ultimate view experience at the heart of your sitting room. What's more, you can get in touch with them for an upgrade or other products that they offer. TV Bracket in Singapore is the place to be.