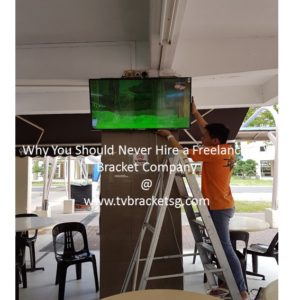 Wall mounting or installing your TV is a pretty serious matter. You can not just do it while reading booklet guides and instructions. If you want to do the wall mounting or installation on your own, then it's all up to you. But, always keep in your mind that installation or mall mounting your TV needs someone who is professional enough or even has a background doing it.
There are a lot of TV installation companies out there you can choose from, but TV Bracket in Singapore is one of the reliable companies who has earned the trust of many people because of their excellent service along with quality products to offer in the marketplace.
Why You Need to Hire a Trusted TV Bracket Company
Installing or wall mounting a television might not be a big deal to others. But the truth is, it's somewhat important to get done successfully. Simply because you do not want to harm your television or make it broken – especially if you just bought it. Wall mounting might look pretty easy but it's not. You need to make sure about everything you are doing. If you choose to hire a trusted, reliable, and experience TV Bracket Company like TV Bracket in Singapore, you can guarantee that the installation process will be done successfully, without causing trouble in the future. You need to hire the experienced ones because you will benefit from a peace of mind later on after installing the TV or hanging it on the wall. There's nothing best when it comes to TV bracket installation, just hiring professionals and let them do the work done.
Reasons Why You Don't Need to Hire a Freelancer TV Bracket Company
There are several reasons why hiring professionals is a great idea when you have to mount your TV. There are many ways on how you can find the right, reliable, and trusted TV bracket company. First, you can look for it all over the net. You also have to look for comments, opinions, and reviews of other people or their previous customers to know more about the service they can provide. Second, your neighbors might know a legit and professional TV bracket company whom they can recommend to you. Hiring a TV bracket company is a serious matter so you need to make sure that you are hiring the professional ones and not the freelancers. Why? Simply because freelancer TV Bracket Company is not well-trained compared to professional ones. They do not have much knowledge on that specific activity or work just like professionals did. You can assure that professional TV Bracket Company is a hundred percent sure about what they are doing. Additionally, they know everything about TV installation – from the kind of mount you need to use up to the right placement of your TV.
So, if you are interested in hiring a licensed and professional TV bracket company who can help you in wall mounting your TV, then look for TV Bracket in Singapore or head on to www.tvbracketsg.com for more details.