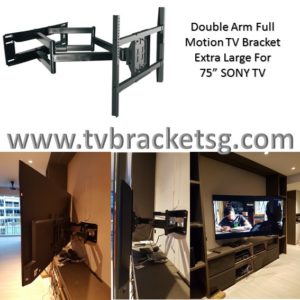 TV bracket Singapore installation can be a complicating task, particularly if you choose to DIY. However, with a professional TV mounting service such as TVBracketSG in Singapore, TV wall bracket installation is an easy task.
We will wall mount your TV in the best viewing position, using quality and durable wall brackets in Singapore.
Are you looking for an experienced and specialised company to mount your television on your wall?  TVBracketSG has a team of professional TV bracket installers that can help you accomplish your goal at affordable rate. More importantly, we give same day appointments and we work round the clock to meet all your TV mounting requirements.
Our TV wall bracket installation experts hide the cables to make your flat screen TV appears perfect while hanging on your wall. In addition, our certified TV mounting technicians will choose the right TV bracket Singapore for you if you are not sure of the type of mount you need.  Our TV wall bracket professionals have been in the TV wall mounting business for the past 7 years.
Why Allowing TVBracketSG to Handle the installation of your TV brackets in Singapore
We are Experienced
We are a team of knowledgeable and friendly professionals when it comes to installing TV brackets in Singapore. Customer satisfaction is our watchword while we pay attention to details. With our experience in this industry, we will exceed your expectations.
Affordable Quotes
You don't have to break the bank before you can buy our products or enjoy our services. Despite the fact that we are not the cheapest in terms of quotes, our quotes are affordable and reasonable.
We are always available
We are available at all times to attend to your immediate needs and provide same day appointments. Moreover, you won't regret hiring us because we won't disappoint you. Once you call us, we will schedule a visit and arrange free quote, depending on your needs.
Are you looking for a professional TV wall bracket company with many years experience and a 5 star rating? TVBracketSG is the company to call. Hence, don't settle for cheap and sub standard freelancers for your TV wall mounting service in Singapore. Contact us now as we are specialised and have a proven track record of satisfying loads of our clients.  We have mounted TVs for a number of homeowners without complaints. We can also help you!
Conclusion
Having a professional like us to install your TV brackets in Singapore can make a big difference. Our experienced contractors understand how to get the job done correctly.
We also supply all kinds of universal TV Bracket and TV Mounting Services in Singapore and no other suppliers has a product line-up that contains so many different kinds of TV Floor Stands, Fixed Bracket, Tilting Bracket, Full Motion TV Mount and etc.
Our TV bracket Singapore product line-up includes:
(1) Fixed Brackets
(2) Tilting Brackets
(3) Full Motion Single Arm Mounts
(4) Full Motion Double Arm Mounts
(5) Ceiling Mounts
(6) TV Table Stands
(7) TV mobile Stands
(8) Gas Strut TV Mounts
(9) Gas Strut Desktop/Monitor Mounts