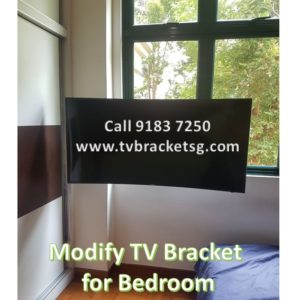 TV brackets in Singapore are an extremely useful utility these days. If you also have a beautiful television with a flat screen which sits on a stand or a table, then you should surely read on to realize why you should replace it with a wall mount. You can choose a wall mount as per your need or desire and buy it from us. We not only sell it but also provide a highly professional service for its installation.
Also, keep in mind that while you are choosing among a variety of TV brackets, it will seem that some are of the same appearance and design. But in actuality, they differ in quality. Also you need to consider the workmanship skills which were applied for making it. Here are the top few reasons which will definitely convince you to buy a TV bracket soon.
Helps in reducing the glare from windows and lights
If you choose a TV wall mount which has a feature of side to side or 360-degree tilting, it will help you solve the problem of light glare. Light glares on the TV screen seem to be very irritating and seem to decrease the viewing quality. But with a wall mount, such a problem can easily be eliminated.
Increases the aesthetic appeal
A television lying on a stand or a table looks very outdated and boring. But if you replace it with a wall mount, an upgraded and modern look will definitely be in your room or house. Moreover, with the wall mount in use, you will be able to reduce the cable clutter, which looks very untidy. Our professionals come to install the TV at your desired place.
Saves up space
If you have a small apartment or small office, then saving up space would really matter. A table or a TV stand to make a TV stand wastes a lot of precious space. Replacing such furniture with a TV wall mount would be a great idea.
Easy and quick installation
Installing a wall mount is quite an easy and fast process. The brackets need to be attached to the television and then the wall plate needs to be installed. After this, the TV is hung to the wall. You don't even need to worry about all this, as we have already got you covered for its installation.
Safety
Safety needs to be ensured for the benefit of you and your family members. Using a TV mount ensures the elimination of possibilities of accidents caused by bumping into or tripping over. If you have a small child or even a pet at your home, then this factor needs to be highly considered. TV mounts have the ability to withstand high weights and the hustle of your home.
Here were a few of the most convincing reasons to buy a TV mount. Surely, you now understand its importance and need in your home. Moreover, they are quite inexpensive. Many styles and types are offered for this product. So, you can choose the one which seems to be the best for you while buying it from us.